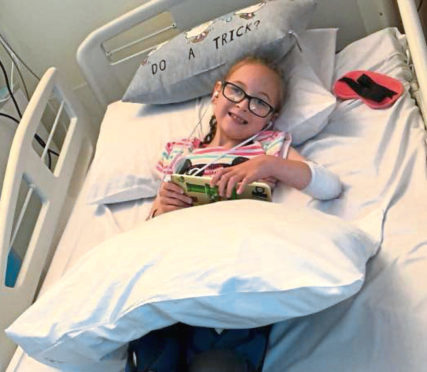 An Aberdeen girl with cerebral palsy has undergone successful surgery to help her walk.
Olivia Brands, 9, from Kincorth, spent hours in theatre on Monday as part of a procedure called a Selective Dorsal Rhizotomy (SDR).
It is hoped the procedure will help Olivia with the movement of her legs and could even lead to her walking.
Olivia's mum, Senga, 40, and dad Steven, 36, had to raise £23,000 for the surgery, as well as for the stay in Bristol and other associated costs, because the operation is not available on the NHS.
As well as Steven and Senga, family, friends and even Olivia's teachers stepped in to raise the cash.
Senga said the surgery went "very well".
She said: "Everything went according to plan, as they had hoped."
Olivia also had to undergo surgery to lengthen the tendons in her legs.
Senga described Olivia as a "trooper".
She said: "She's really taken everything in her stride.
"It's been hard for her, and she's been emotional, but she's pulled through it.
"She does miss her family, especially her sisters. It feels like ages before we can get home."
Senga hopes that Olivia will be ready to return to the north-east early next month.
Despite the success of the surgery, Senga is under no illusions about the challenges facing Olivia.
She said: "We've got so far to go.
"Obviously with her in physiotherapy now, there's so much to do, and so much muscle to build.
"I think this time next year we'll be able to notice much more of a difference in her."
Olivia is facing a gruelling physiotherapy regime, which sees her attending sessions twice a day.
When she gets back home, the youngster will still have to attend sessions twice a week, to ensure her mobility is as good as it can be.
According to Senga, a small change can already be seen in Olivia's walking ability.
She said: "It's been great to see the difference in her from before the surgery and now.
"She's had muscles in her legs that she's never, ever used before, so we're trying to teach her out of some bad habits, but all the staff have been fantastic with us."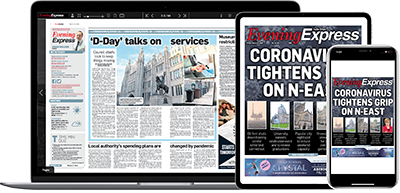 Help support quality local journalism … become a digital subscriber to the Evening Express
For as little as £5.99 a month you can access all of our content, including Premium articles.
Subscribe