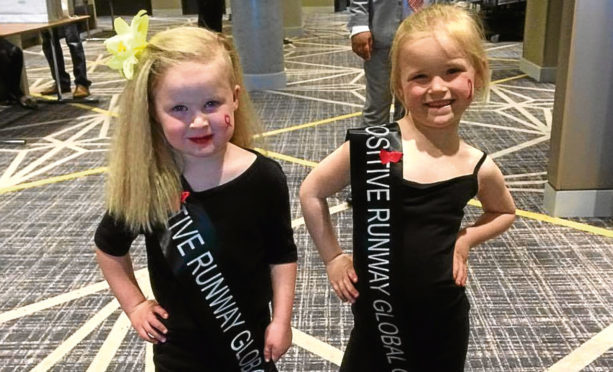 Two youngsters who have undergone major surgery are to be recognised for their bravery at a north-east fashion show.
Alice Cooper, six, from Blackburn, and Layla Sangster, seven, from Kemnay, have both had surgery in recent months and have come out smiling at the other end.
The pair will now be recognised for their courage at Aberdeen Fashion Week's first ever awards event, taking place on May 5.
Layla went through surgery to fix a hole in her heart, while Alice, who was born with a very rare condition called Chiari I malformation, had brain decompression surgery on September 8.
The condition, which involves the lowest part of the back of the brain extending into the spinal canal, is present from birth.
Alice's mother, Emma Cooper, 41, said: "When she was just months old I noticed that Alice would take her neck back when she swallowed.
"But it took me six years to get it noticed by a doctor – it was June 14 last year that she got officially diagnosed.
"Chiari I malformation is very rare so it's not something that a GP would instantly think of.
"She got an MRI scan and within four days of that, a specialist said that if it wasn't fixed quickly she would end up in a wheelchair.
"Alice would have lost the use of her arms and legs.
"The minute we found out about the news, we booked a trip to Disney World in Florida for five weeks.
"We weren't sure how the surgery would go, so we wanted her to have a wonderful time."
Alice's surgery took place at the Royal Hospital for Children in Glasgow.
Emma said: "The operation was meant to take four hours and it ended up taking seven hours.
"It was the longest seven hours of my life.
"Alice was in hospital for three weeks recovering."
Emma, who is married to PJ and has three other children, Aliscia, 19, Anya, 17 and Amber, 8, paid tribute to Alice's bravery throughout her surgery and recovery.
She said: "Alice has never cried once through the whole process.
"She was so happy that the pain would finally be gone."
For the surgery, Alice had to have her hair shaved off, which Emma also said she took in her stride.
She said: "Alice had beautiful long, blonde hair before the operation but she had to get it shaved.
"She was absolutely fine about it – but I was a mess.
"To be honest, she has been amazing through the whole thing – she's just thrilled to not be in pain every night.
"Because Chiari I malformation is so rare, it's really important to me to raise awareness of it so other families and doctors can recognise it as soon as possible."
Meanwhile, Layla, who will also be recognised at this year's Aberdeen Fashion Week, is thriving after her surgery.
Her mother, Lynette, 36, said: "The difference in Layla since she had her surgery is remarkable.
"She has so much energy and is always smiling.
"I was under the impression that she was a happy child before, but the change in her is just amazing.
"She is really thriving and is even doing better in school."
Emma, who is also choreographer for this year's fashion week, is delighted Alice and Layla will be recognised for their bravery.
She said: "Alice has been involved in the fashion show in the past.
"All four of my daughters are involved in the show and they just love it.
"We're all like a family and I've had so many well-wishes for Alice.
"It's great that Layla and Alice both get to feel so special by taking part in the show and getting these awards.
"They get on brilliantly as well – they can just light up a room when they come in."
As well as Layla, Lynette's two other daughters, Shakira, 15, and Payton, 9, will also be taking part in Aberdeen Fashion Week.
Lynette said: "My daughters have done fashion week every year for a while.
"I am delighted that they will be receiving these awards.
"It's really nice that Layla and Alice get to feel like princesses.
"I've been keeping it a secret from Layla so that she can be surprised by it.
"After everything both girls have been through, it's lovely that they can be recognised for it."
Aberdeen Fashion Week founder and director Lydia Cutler explained that in addition to recognising Alice and Layla, the awards will honour the people who have contributed to the show's fashion, art and media.
She said: "This is the first time we are holding an awards ceremony for Aberdeen Fashion Week and we wanted to do something special.
"We wanted to recognise Alice and Layla's bravery for going down the runway and going through what they did in surgery.
"It is going to be a great event and I'm very proud to be able to recognise both of them."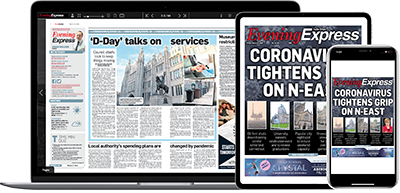 Help support quality local journalism … become a digital subscriber to the Evening Express
For as little as £5.99 a month you can access all of our content, including Premium articles.
Subscribe