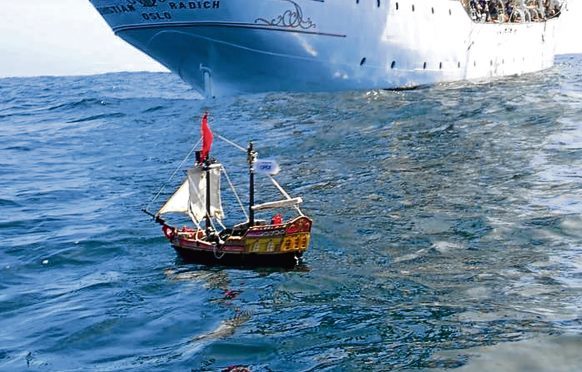 Two North-east brothers whose toy pirate ship sailed from Scotland to Scandinavia are hoping it will reach the Caribbean after being launched off Africa with the help of a tall ship.
The Playmobil boat travelled to Denmark, Sweden and Norway after being launched by Ollie Ferguson, 8, and his brother, Harry, 5, from Peterhead, at the end of May.
It has now been transported more than 3,000 miles south to the Atlantic by Christian Radich, a Norwegian full-rigged ship, whose crew offered to help the toy craft on its journey.
The Playmobil boat, named Adventure, was dropped into the water around 100 miles off the coast of Mauritania to continue its travels.
The boys are now hoping it may cross the Atlantic to enjoy its own Pirates of the Caribbean adventure.
The boys' father MacNeill Ferguson said: "The Christian Radich has been amazing, they have been sending us regular photos with our boat on their ship and they have been really getting into the spirit of the whole adventure.
"They took it all the way to Las Palmas in the Canary Islands and then between there and Cape Verde they decided it was the best place to put it in the ocean to give it the best chance of getting to America or the Caribbean."
The team on the Christian Radich, pictured with the Adventure in front, did some restoration work on the Adventure before launching it on the next stage of its journey.
One of the crew, who had worked on the restoration of the Cutty Sark, created sails made from real sail cloth and the team adjusted the toy ship's balance to ensure it always rights itself.
Mr Ferguson, 44, said: "I remember how much work it was for us getting the ship ready to launch in May and now they have spent their time doing it, which was really, really lovely and I really appreciate it."
The Playmobil vessel carries a message asking anyone who finds the boat to send them a picture and launch Adventure back into the sea.
The ship's journey is now being sponsored by Opex, which is paying for a tracker, made by YB Tracking, that will pinpoint where the vessel is.
A website built by DDK Positioning enables people to follow its journey on www.track-adventure.co.uk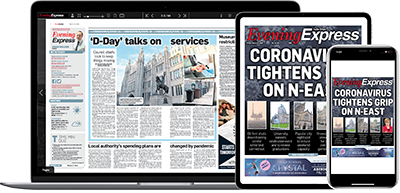 Help support quality local journalism … become a digital subscriber to the Evening Express
For as little as £5.99 a month you can access all of our content, including Premium articles.
Subscribe