An award from a Boys' Brigade group is helping youngsters secure their first job.
With more than 220 officers, helpers and boys, the 1st Buckie Boys' Brigade is the largest in Scotland – and one of the biggest in the UK.
The success of the company has been put down to the "commitment" of the staff for meeting the members' needs. Youngsters regularly take part in activities in the town and surrounding area including sports and music.
Company captain Alan McIntosh, who has held the post since 1980, revealed the dedication of the group is holding sway with employers.
He said: "In the past few years, local business, industry, and colleges and universities see the value in a young man who has gained his Queen's Badge.
"It entails 30 hours community service, 30 hours service to the company, 15 hours of an interest or skill and 15 hours of a physical activity.
"A surprising number of young men come back to me and say they took their Queen's Badge book with them to an interview and the focus for most of it was on leadership."
The Buckie company celebrates its 70th anniversary next month.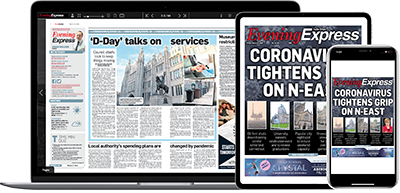 Help support quality local journalism … become a digital subscriber to the Evening Express
For as little as £5.99 a month you can access all of our content, including Premium articles.
Subscribe