A north-east Boys' Brigade is making a bid to clean up a town's harbour – with a unique piece of equipment.
Members of the 1st Fraserburgh Boys' Brigade have so far raised £900 to purchase a Seabin for the town's harbour.
The piece of equipment costs £3,000 and can be submerged to collect waste 24 hours a day using a pump to suck rubbish from the sea surface.
The idea came from warrant officer Grant Duthie, who saw the environmentally-friendly piece of equipment advertised online.
Officers at the company are delighted with the amount raised so far.
Warrant officer in the company section Ryan Clark said: "We wanted to do a fundraiser for something a bit different, hence the choice of the Seabin.
"It was originally suggested through our president's badge boys' meeting by Grant Duthie, who also volunteers for the local lifeboat crew and it went from there.
"It's now a company section goal to raise the money through various fundraisers, such as coffee mornings, sponsored sports challenges and other events.
"Originally, our plan was to raise the money over a couple of years, but with the speed that we've raised funds already, we hope to have it done in maybe over a year or so."
Once the Seabin is full it can be emptied and the contents recycled.
It can catch everything floating in the water, including plastic bottles, paper and fuel.
Fish are not caught because they do not get close enough to the surface to be pulled in.
Clean water is then pumped back into the sea, helping to keep pollution levels down.
The group, one of three Boys' Brigade companies in the town, has already approached the harbour with the idea.
Marc Thomson, officer in the company section, added that the efforts will count towards the boys' badge work.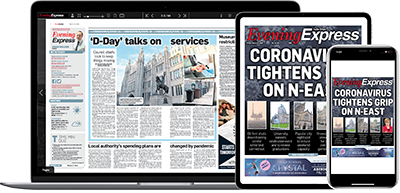 Help support quality local journalism … become a digital subscriber to the Evening Express
For as little as £5.99 a month you can access all of our content, including Premium articles.
Subscribe