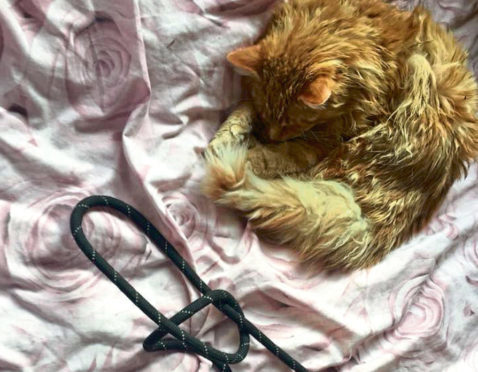 A nine-year-old boy found his cat fighting for its life after yobs hung the animal from its neck with a dog lead.
Ricky Henderson, from the Garthdee area of Aberdeen, today told how his wife Gail, 34, and son Cole, 9, found their pet Scruffy.
A thick dog's lead had been tied around the cat's neck and attached to the top of a high fence near their home.
The 33-year-old, who is assistant manager at Goals, said: "They realised they hadn't seen him all day and then they heard him crying out the back.
"My nine-year-old son found him on the fence struggling for his life.
"He was round the back hanging on the end of a high fence.
"He was soaked to the bone and his fur was on the fence because he must have been rolling around. His gums were bleeding as well.
"Cole was very upset. He ran to get his mum as he couldn't get him off the fence."
Scruffy, who is 11 months old, is "very friendly" and approaches everyone, according to his owner.
The family have put an appeal on social media in a bid to find the culprits and to make other pet owners aware. Their message has been shared more than 1,500 times, and has spread shockwaves among the community.
But Ricky, who also owns another cat, Matilda, said he is wary of letting his cats out in the garden after Wednesday's incident.
He added: "You do start to think about who your neighbours are.
"If the person that's done this sees the comments then hopefully they see how sick it is and how much people care about animals."
Paul O'Connor, chairman of Garthdee Community Council, said: "People should be vigilant about where their pets are.
"I'm shocked and disgusted that this would happen in our neighbourhood and it's not something I've ever heard of or witnessed in the past. We won't tolerate it."
Scottish SPCA Chief Superintendent Mike Flynn said: "We have not received any calls in relation to this incident, however it was clearly a very cruel and idiotic act.
"We would urge cat owners to be vigilant and anyone who witnesses anything relating to animal cruelty should call our Animal Helpline on 03000 999 999."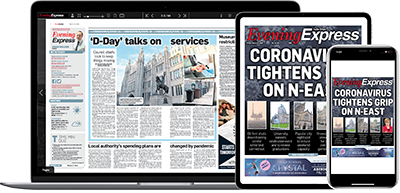 Help support quality local journalism … become a digital subscriber to the Evening Express
For as little as £5.99 a month you can access all of our content, including Premium articles.
Subscribe