A 10-year-old boy has taken a daring leap off a suspended 100ft crane in an effort to raise funds for the charity that saved his life.
Darren Hamilton-Hall, from Gourdon, signed-up for the Adrenalin Drop hosted by Friends of the Special Nursery and the ARCHIE Foundation.
The event saw more than 50 people come out to watch the daredevils plummet and land safely on their feet in a bid raise cash.
Darren's mother, Hazel Hamilton-Hall, said she was "sick with nerves" on her son's big day as he got ready.
She said: "At first, Darren didn't seem too fussed by the jump, but by the time he got to the area to be briefed he said: 'Mummy, I'm just scared of being at the top'.
"I told him that he didn't have to do it, but he asked me to walk him to the cage that would be taking him up.
"He said he couldn't believe he was about to jump from so high up."
Darren, 10, dares to take crane plunge in fundraising bid for Aberdeen hospital charity that came to his rescue as premature baby
The youngster was born four weeks early at Aberdeen Royal Infirmary. He weighed 6lb 1oz and had to fight for his life due to cardiomyopathy, a condition in which the heart muscle becomes enlarged, thick or rigid.
Since his stay in hospital, the Hamilton-Hall family has always been grateful for the care the Friends of the Special Nursery provided.
Darren raised £1,137.90 for the charities and was the top funding contributor for the event.
Hazel said she "tried to be positive" as she watched the crane take her son up into the air.
She added: "Every time they went a bit higher I kept thinking 'that's enough'. It seemed to take forever, but then he jumped and he said it was as simple as one, two, three.
"When he got back down, he immediately wanted to do it again and said he's going to be taking part again next year.
"Darren has had so much positive feedback from online comments and it was great to see so many people out raising money for a good cause."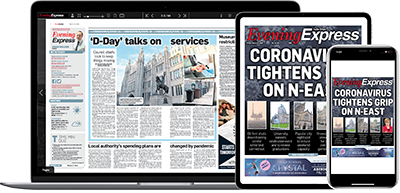 Help support quality local journalism … become a digital subscriber to the Evening Express
For as little as £5.99 a month you can access all of our content, including Premium articles.
Subscribe