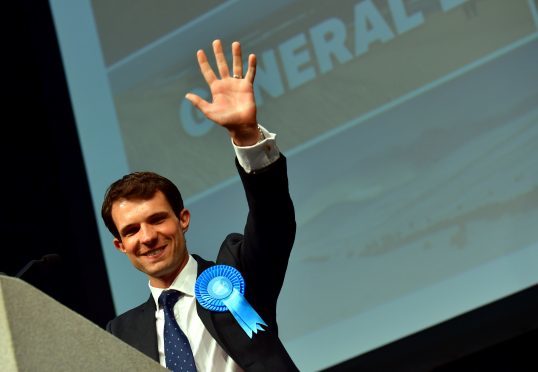 West Aberdeenshire and Kincardine's new Conservative MP declared the "people have spoken" as he snatched the constituency from the SNP.
Andrew Bowie swept to victory in the seat – overturning a majority of more than 7,000 from the last vote.
He defeated nationalist Stuart Donaldson in what was the Conservatives third top target seat in Scotland.
The rural constituency was one of the tightest battles in Scotland prior to the election.
Mr Bowie managed to significantly overturn the SNP's 2012 7,033 majority and create a 7,949 one for the Tories.
The new MP received 24,704 votes, while Mr Donaldson polled 16,755.
During his speech Mr Bowie made mention of Alex Salmond's victory speech in 2015 when he said the "Scottish lion had roared tonight" and said instead the "people have spoken" this year.
He added: "I think people genuinely wanted change and they think they have been let down by the SNP too long."
Mr Bowie said his priorities going forward will be to push for more support for the oil and gas industry and for the agricultural sector.
The outgoing MP Stuart Donaldson was gracious in defeat and wished him all the best.
He said: "It is always disappointing to lose an election. I thought we fought a really good campaign and I am really proud of it.
"I wish Andrew Bowie all the best in representing this great rural constituency which I have loved being the MP for the last two years. Although it was a sad night for us I think this campaign in
WAK has been run in great spirits among all the candidates. It was also great to see so many young candidates up on the stage.
"This is just the end of the beginning for me, I am a 25-year-old man so I am open to suggestions about what an ordinary 25-year-old does."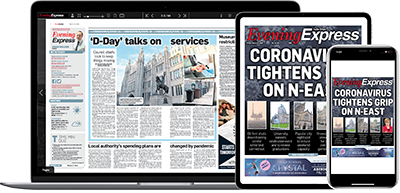 Help support quality local journalism … become a digital subscriber to the Evening Express
For as little as £5.99 a month you can access all of our content, including Premium articles.
Subscribe