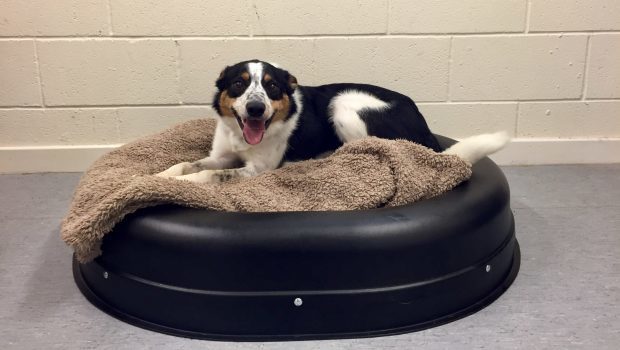 The Scottish SPCA is looking help to re-home one of their dogs.
Glen, a border collie, had a tough start in life and has been in the Aberdeen Animal Rescue and Rehoming Centre's care for nearly 90 days.
Centre manager Graeme Innes said: "Glen didn't get the best start in life but he has come a long way in our care and is now a very happy collie who seems to love life. He's all about the cuddles and just can't get close enough to you.
"In Glen's previous home he used to destroy his bed and blankets.
"He suffers from kennel stress so is unable to have a soft bed with stuffing as he would pull all of the stuffing out.
"He can't have a plastic bed either as he chews it and hurts his mouth but if we give him only blankets he chews them all up and then has nothing to lie on.
"He recently got a really tough Tuffies dog bed as a gift which has calmed him down quite a bit and he no longer damages any blankets or beds when left alone as he's not as stressed in his kennel.
"We know that Glen will make a fantastic companion with someone who can invest time in him."
Anyone who can offer Glen a new home should contact the Scottish SPCA's centre in Aberdeen on 03000 999 999.