An Aberdeen man living with an asbestos-related disease has warned of how he did not realise he had the condition.
Bob McWhinnie, 78, was diagnosed with asbestosis three years ago.
He had previously spent 25 years as an engineer in the Royal Navy.
Originally, Bob's friends noticed that he was struggling to keep up while walking down the street.
He said: "They kept asking me 'what's wrong?', but I didn't really notice it because it was such a gradual change.
"Eventually, my wife cottoned on to what was happening and made me go to the doctors.
"The doctor's didn't really know about my work history, so they said that I should get an appointment up at ARI, with a lung specialist.
"By various tests, they found out that it was asbestosis, and they found out where it was that I was exposed to asbestos.
"I didn't really notice the symptoms, but it was my friends and family that noticed a difference in me, so that made me go to the doctors."
Through his time in the Navy, doctors said that Bob had suffered "mega exposure" to asbestos.
He said: "Where I was working, I was mainly in boiler rooms, so asbestos was everywhere."
The symptoms have become so bad that Bob now struggles to climb stairs.
He said: "It's got to the point that I'm gasping for air."
Bob quit smoking when he was 24, but says that if he didn't do that, the situation would be far worse.
He said: "If I had kept on smoking instead of quitting when I did, then I could have ended up with something much worse."
Bob was yesterday attending a meeting of Asbestos Action, a group that campaigns for asbestos awareness, as well as supporting people who have contracted diseases due to exposure to the toxic material.
Liz Steven, benefits advisor for Asbestos Action, pictured, said: "We are seeing a lot more people coming to us in the Aberdeen area, and that's why I was hired.
"Since I took up my post in July, there have been 11 more people that I have worked with that have a serious asbestos-related illness."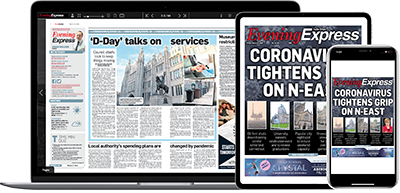 Help support quality local journalism … become a digital subscriber to the Evening Express
For as little as £5.99 a month you can access all of our content, including Premium articles.
Subscribe