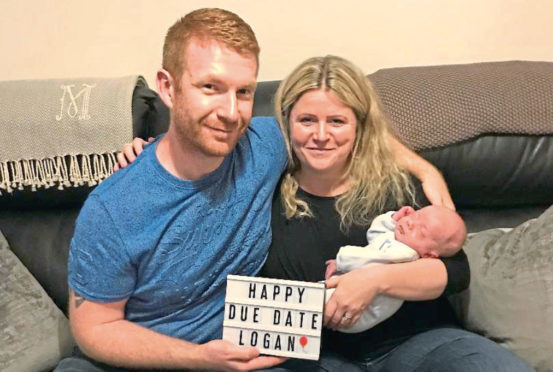 An Aberdeen mum has started a petition urging the government to change the rules of paternity and maternity leave for parents of premature babies.
Hazel Meek wants Holyrood to ensure the time babies spend in neonatal wards does not count towards the statutory period of leave. As it stands, maternity leave begins when the child is born.
Hazel got the inspiration for her campaign after her son Logan was born seven weeks early and spent time in the neonatal unit at Aberdeen Maternity Hospital.
Hazel and her husband David, both 36, were allowed to take him home two weeks later, but it got her thinking about other families, who can spend months in the hospital.
Hazel, who works as an in-house legal counsel, said: "While we were in the neonatal unit we met so many other families – some with babies much more premature or sick than Logan. As you can imagine, it was a very stressful and emotional environment.
"We were not expecting our baby to arrive so early and were really just going through the motions in hospital.
"Nobody plans on having their baby in the neonatal unit, and I can tell you it's stressful enough without having the additional worry about wages and the pressure put on partners having to make difficult decisions over whether to exhaust their paternity leave or annual leave/holidays, if they have any, or beg for compassionate leave before their babies are even home.
"Personally I believe any time spent for either parent in a neonatal unit with premature babies should be paid and it should not impact either parent's entitlement to leave.
"The mother should still have her full entitlement when she gets home, as should the partner."
---
---
Luckily for Hazel and David, from Bridge of Don, Logan is now happy and healthy, but they are aware that this isn't the case for everyone, and the maternity and paternity leave rules can make an already stressful situation worse.
Hazel hopes the Scottish Government will consider extra leave for families who have a premature baby.
She added: "My petition is aimed at premature babies, but as others have highlighted, this is also an issue faced by parents of sick babies. The introduction of paternity leave and shared parental leave is great but this is still an area the UK could improve upon."
A Scottish Government spokesman said: "Ensuring parents are well supported during the early stages of family life is also key to improving outcomes for all our children.
"We believe everyone should have access to reasonable support from employers when they become parents.
"Although the relevant legal powers are currently reserved to Westminster, we are committed to promoting and supporting flexible working, particularly for parents whose babies are born prematurely or require additional support."