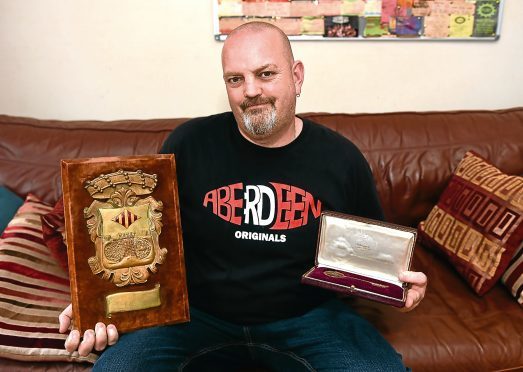 An Aberdeen man who became the first 'tourist baby' of a Spanish holiday resort is set to return to the place of his birth after four decades.
Sean Herron, 45, was known to be the first tourist baby to be born in Benidorm on August 28, 1971.
The Bridge of Don resident will be returning on October 15 to reacquaint himself with the Spanish city.
During his parents' holiday on Costa Blanca, Spain, Sean was born six weeks premature to Maureen and Desmond Herron, a former Aberdeen footballer.
His unexpected arrival posed problems for his parents because of the problem of transferring money in order to pay for medical expenses.
But the then-mayor of Benidorm, José Manuel Reverte Coma, generously paid Sean's substantial medical bills, granted him the freedom of the city – and became his godfather.
Sean, a lorry driver, said: "I had a bank account set up for me, which all the locals donated to.
"I thought about going for my 40th birthday since I haven't been back since I was about two or three years old.
"My family and I go on a holiday every year and I thought I would really like to see Benidorm now.
"It's really just about wanting to show my sons where I was born."
As part of Sean's return to the Spanish city, he will meet with the current mayor of Benidorm, Antonio Pérez Pérez. Sean was born in Hotel Rey Mar, now known as Hotel Ambassador Playa where he weighed in at three pounds and had to be cared for in an incubator.
The honorary citizen of Benidorm flew back to Scotland as a VIP and would return the following year with his parents and 18-month-old brother Paul on an all-expenses-paid holiday courtesy of package tour company Thomson Skytours and the American Express travel agency.
He said: "When I tell people, most of them say 'Wow, what a story!'.
"It's a strange story to tell, but how many people can say that?"
Sean is excited to show his sons Cameron, 15, and Connor, 12, the city where he was born.
His wife Amanda is also eager for the trip ahead.
She said: "Sean's been in touch with these Benidorm Facebook groups where he told his story and the local news got in touch and picked it up.
"Benidorm has never appealed to us as a holiday destination because we've always visited family in other Spanish cities, like his brother who lives in Tenerife.
"But now, we've gotten a chance to go back- especially with flights flying from Aberdeen to Benidorm.
"We'll hopefully get to arrange a chance to see the hotel where he was born.
"Sean's story is really interesting and especially since he's got dual nationality."
Amanda also hopes her sons will get the chance to see where the story stems from.
Unfortunately, Sean won't get the chance to be reunited with his godparents since former mayor José Manuel Reverte Coma passed away on May 6 at the age of 95.
He said: "It would be nice to meet with his family who are still around."
"I'm just going to be taking it as it comes and we'll see what happens when I get there."
Sean keeps his conferred freedom of the city plaque hung in his home and the key to the city of Benidorm safely stowed away.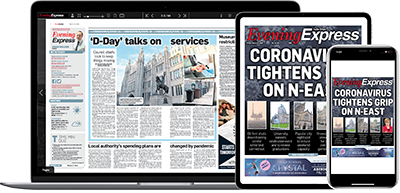 Help support quality local journalism … become a digital subscriber to the Evening Express
For as little as £5.99 a month you can access all of our content, including Premium articles.
Subscribe