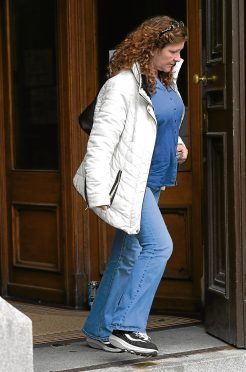 A woman has been spared jail after falsely claiming £14,000 in benefits.
Thelma Watson, 51, was handed 175 hours of unpaid work by Sheriff Christine McCrossan when she appeared at Aberdeen Sheriff Court for sentencing, having previously admitted two charges of benefit fraud.
Social security chiefs said the case showed how the department was "rooting out" benefit cheats.
Watson, of Cruikshank Crescent, Aberdeen, previously appeared in court last month and admitted claiming the cash over a period of more than two years.
She pled guilty to failing to notify DWP officials that, having previously declared she was single, she lived with her partner.
Watson claimed £2,111.32 in Jobseekers Allowance between February 5 and September 5, 2012.
She also claimed £11,888.68, in Employment Support Allowance between September 6, 2012, and January 9, 2015.
Defence for Watson, Neil McRobert told the court his client had no previous convictions for dishonesty.
He said: "The background is there was a legitimate claim back in 2009, benefits were received thereafter which she was fully entitled to at that stage. She had moved in with the male referred to; that relationship became more serious.
"Clearly at that stage that is a change in circumstances and she should have told the DWP."
He added: "She accepts she should have informed the DWP of a change of circumstances. She is deeply remorseful. She appreciated the power the court would have and she is aware of the disposals."
Mr McRobert said she was "distressed" at the prospect of a custodial sentence.
A spokeswoman for the Department of Work and Pensions said: "Only a small minority of people try to cheat the benefits system, but cases like this show how we are rooting out those who are stealing taxpayers' money and diverting it away from the people who really need it.
"People convicted of fraud shouldn't be able to benefit from their crimes, so we will always try to get back the money they stole.
"If you suspect someone of fraudulently claiming benefits, then call our National Benefit Fraud Hotline on 0800 854 440."