Weather warnings may indicate the region is over the worst, but the "Beast from the East" is still biting.
Though the Met Office amber weather warning has been reduced to yellow, the effects of the cold weather continue to wreak havoc for areas of Aberdeenshire.
A Met Office spokesman said: "Yellow warnings for snow and ice are in effect in the North-east of Scotland until Monday. This will be under continuous review over the weekend and may be extended.
"Northern Scotland is most likely to stay in the colder air with further snow showers, so it's going to take a lot more time for that warmer influence for the south to penetrate that far north.
"Patchy ice remains an issue during overnight periods. It's likely that snow pack will remain in Northern Scotland in alignment with those cold temperatures. So, I'm afraid it does look like places in Northern Scotland are going to hold on to the cold for the longest period of time.
"We have a warm front moving in from the south, but with this wall of cold that's been over the UK, it's going to be really hard to shift."
Police in the North-east advised motorists to continue to travel with extreme care as many of the roads are affected by drifting snow, high winds and cold temperatures causing icy patches.
Snow gates at A93 Braemar and B974 Cairn O'Mount remained closed yesterday, while the A92 Inverbervie and Stonehaven was opened and made passable with care due to drifting snow.
The A937 Marykirk to Laurencekirk was also opened yesterday despite reports of drifting snow, however, the road between Portknockie and Findochty was closed.
Aberdeenshire Council confirmed, although the snow is and will continue to be lighter than in recent days, it is expecting a further 4cm with issues relating to drifting on higher ground, where there will be more snowfall.
Gritters completed inspection, ploughing and treatment of routes throughout the network, starting early yesterday morning with further treament on primary routes at 2pm and again at 6pm.
Work began this morning at 5.40am to clear footways, with gritters starting on secondary routes at 8am.
Aberdeenshire Council also advised, despite continuous efforts, conditions were still likely to be challenging on local roads and any motorists venturing out should drive according to the conditions.
Aberdeen City Council outlined plans to grit side streets over the weekend, if the weather remained the same, but issued a reminder for motorists to park with caution to allow easy access for road gritters.
Resources used to battle the weather yesterday included 17 road gritters, 15 pavement gritters, nine pick-ups which distribute the salt to pavement gritters and 50 roads services staff, with additional help from 50 grounds staff with vehicles working in sheltered housing areas, cemeteries and on pavements.
Aberdeen City Council transport spokesman Councillor Ross Grant said: "Our road and pavement gritting operations have continued with a high demand on resources of both salt being used and staff out in the freezing conditions doing their best to ensure the main roads and pavements are usable.
"The weather over the weekend is forecast to be very similar and people should continue to expect icy roads and pavements and take appropriate care – there's still a yellow weather warning in place, which means the snow will continue to cause disruption to everyday life. We've already arranged for increased numbers of gritting staff so they are at the same levels as during the week.
"Our gritting operations again focused on keeping main roads and pavements clear, and were also in neighbourhood areas keeping the main access roads and pavements clear there too. We also responded to the area of Sheddocksley needing extra attention, and also gritted around the hilly area of Langstane Place/Windmill Brae in the city centre before the revellers came out in the evening.
"We're also gritting around Pittodrie before the football match starts today.
"As always, we'd ask people to plan any journey they're undertaking and follow local police advice on Twitter and Facebook for road safety updates."
Retailers also felt the effects of the storm on their level of produce on the shelves.
A spokesman for Co-op, said: "Safety is our number one priority and we continue to closely monitor the weather and the condition of the roads. Our stores have experienced high demand as shoppers walk to their nearest convenience store – avoiding any unnecessary travel. Like other retailers we have experienced some localised disruption and we are restocking stores as a priority whenever it is safe and the roads are passable."
An ASDA spokesman said: "Despite the weather creating some pretty difficult conditions, our colleagues are working hard to get deliveries through and keep our shelves stocked for our customers."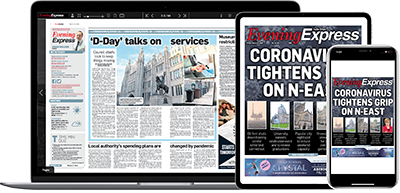 Help support quality local journalism … become a digital subscriber to the Evening Express
For as little as £5.99 a month you can access all of our content, including Premium articles.
Subscribe