Up to 40 motorists were stranded on a North-east road as the region continues to battle the Beast from the East today.
Thirty flights were cancelled to and from Aberdeen International Airport, while warnings were issued to avoid travel and more than 170 schools shut across the area.
The region remains under an amber warning issued by the Met Office which is due to be in place until 10am tomorrow and yellow warnings will be in place until the weekend.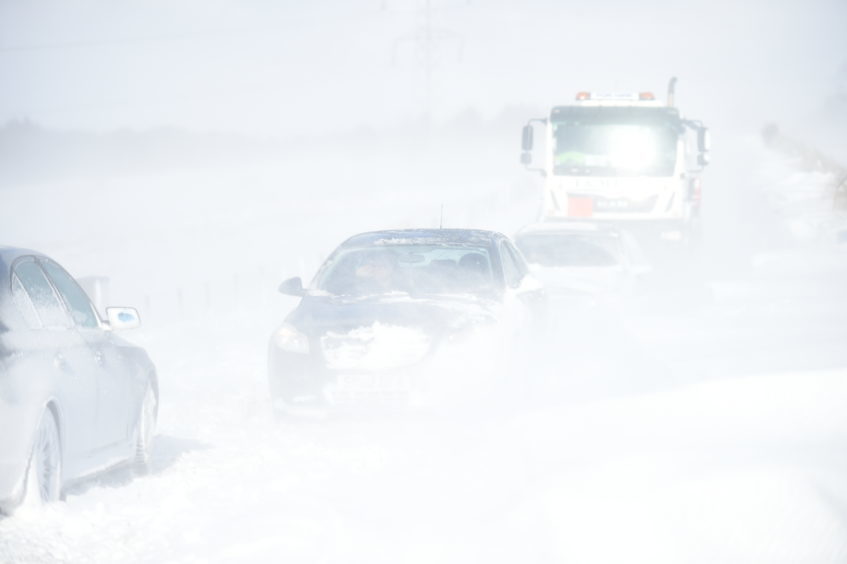 Council staff continue to be involved in round-the-clock gritting operations with the full
complement of employees out in road and pavement gritters, and on foot, to spread salt on routes and pavements across the city.
Plunging temperatures continued last night with continued heavy snow and high winds expected today.
Gritters were called out to the A920 between Ellon and Pitmedden after between 30 to 40 drivers became stuck due to the weather conditions – and the road was closed.
A Police Scotland spokeswoman said: "Please avoid the A920 between Ellon and Pitmedden. Conditions are very poor there at present and we have reports of several cars stuck."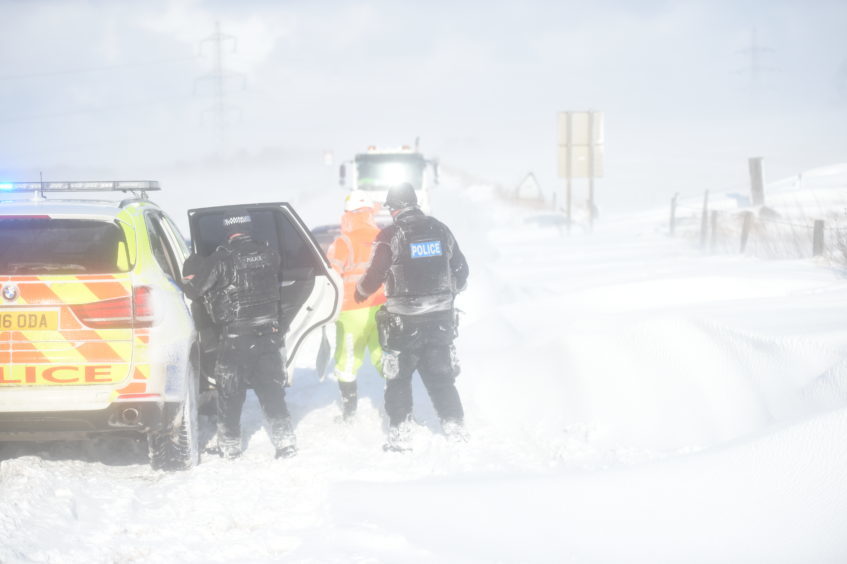 The road was shut at 9.45am to allow for gritters to clear the road.
Police also closed the Parkhill crossroads at the junction of the B999 and B977 from 2.35am.
A number of vehicles had become stuck on the stretch of road. Diversions were in place.
Meanwhile, Aberdeen International Airport advised travellers various flights to and from the city were cancelled.
A spokesman said: "If we have to close the runway it will only be for 10 to 20 minutes to de-ice, the major problem is planes not actually coming in to the airport to then go back out."
The airport remains operational, and passengers are advised to contact their airlines for information.
Easyjet cancelled a flight to Luton that was due to leave at 3.35pm.
An Easyjet spokesman said: "We expect snow showers, drifting snow and ice across our network and as a result we are expecting disruption including cancellations."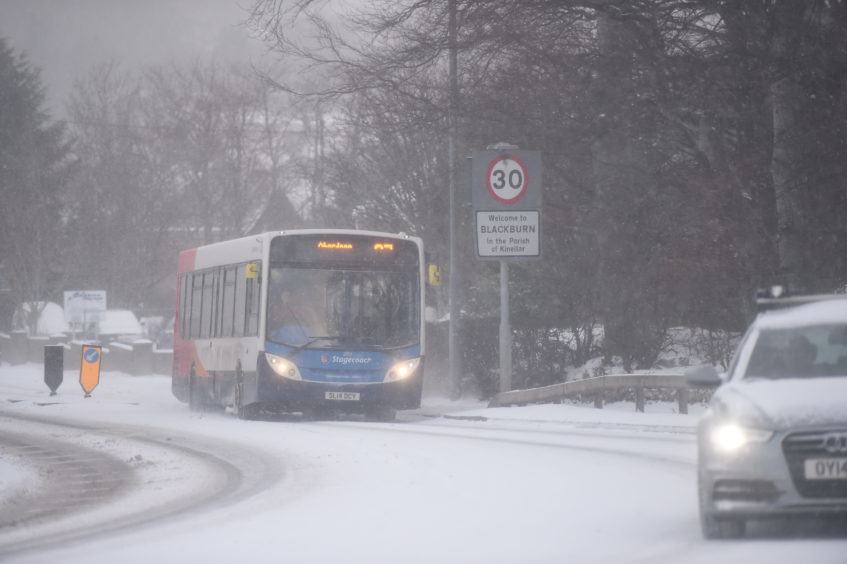 A First Bus spokesman said: "We are working hard to provide as near to normal a service as possible.
"The main issue has been with bus drivers who have been unable to get into work due to the weather.
"We would encourage passengers to check services in advance."
Scores of rail services to and from Aberdeen were cancelled in what would usually be a busy morning rush-hour.
That included trains to Inverurie and Glasgow via Perth, though services to Edinburgh and London were running as normal.
Rail operators including ScotRail and Virgin are encouraging passengers to plan ahead.
Police Scotland said the vast majority of roads across the North-east remained "extremely hazardous", in particular minor roads across Aberdeenshire.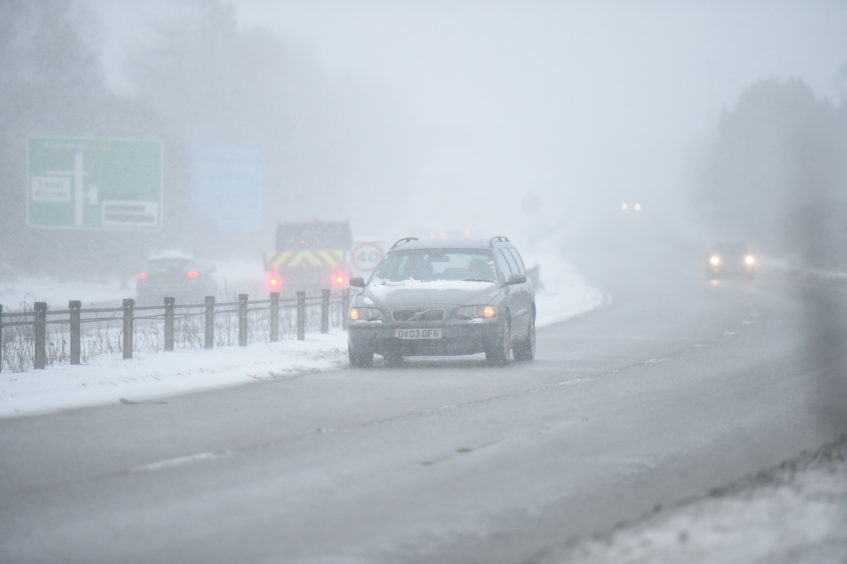 Meanwhile, police were called out after a two-car crash on the A944 at Westhill at 8.05am, the road was blocked as a result. No one was injured.
A Met Office spokesman said: "Throughout Thursday, it will remain very cold with raw easterly winds continuing.
"Temperatures in the city will be around 1C but will feel significantly colder due to the wind.
"Snow showers will continue overnight into Friday with lows in the city at -2C and in Aberdeenshire at -5C.
"At the moment, our amber warning is in place until 6pm today and there will then be a yellow warning until midnight. However, this is being constantly reviewed."
North East Scotland College closed its campuses for staff and students at lunchtime yesterday, with all remaining closed today.
Meanwhile, 172 schools were closed to pupils across Aberdeenshire today.
In Aberdeen, more than 20 schools were due to delay opening today with Orchard Brae School and Dyce Academy closed and Aberdeen School for the Deaf and Sunnybank School shut to pupils using school transport.
Strong winds with falling snow was causing severe drifts on roads.
Strong winds also saw emergency services called to a cinema last night after a section of roof came loose. Fire crews were called to Cineworld at Union Square around 7.20pm.
A spokeswoman for Union Square said: "Due to the effects of the high winds, we will remain closed until further notice."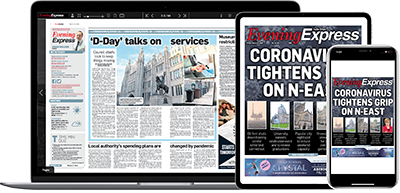 Help support quality local journalism … become a digital subscriber to the Evening Express
For as little as £5.99 a month you can access all of our content, including Premium articles.
Subscribe