More than 100 schools have been closed, and 27,000 homes left without power as the "Beast from the East" battered the North-east today.
The decision was taken to close 153 schools in Aberdeenshire and a further three in Aberdeen.
A fourth school in Aberdeen announced it would be shutting at lunch time.
Aberdeenshire Council are also asking that parents of children who attend schools that are still open to check their website for any changes.
A spokeswoman for Aberdeenshire Council said: "Most schools across Aberdeenshire are closed today due to adverse weather conditions.
"Head Teachers make these decisions based on local conditions so please keep an eye on our website."
Latest Aberdeen and Aberdeenshire school closures because of the snow
An Aberdeen City Council spokeswoman said: "Several schools around the city have delayed openings either due to the adverse weather conditions or due to a lack of power in the building, and Orchard Brae School and Skene Square are closed.
"We have kept parents informed through the group call system and there may be further updates during the day."
The weather front also claimed the electricity to thousands of homes in Aberdeen early this morning.
Outages were reported in Springhill, Old Aberdeen and Berryden at 6.20am.
According to SSE, a wide area of the North-west of the city was effected.
Workers were dispatched to deal with the problem, which also may have left traffic lights in the city centre without power.
Power was restored in stages to different areas, and the problem was solved within an hour of the first report.
A spokesman for SSE said: "We would like to offer customers our sincere apologies for any disruption that this may have caused."
It comes after Met Office meteorologist Alex Burkhill said Aberdeen and Aberdeenshire would see heavy snow over the next few days.
He said: "Showers are likely to group together at imes, always falling as snow, 5-10cm (1.9in-3.9in) is expected very widely, with
15-20cm (5.9in-7.8in) for many places and locally as much as 40cm (15.7in).
"The winds are going to be strong, with gusts of over 40mph coming in from the east, which will make it feel very cold and lead to blizzard-like conditions.
"We are expecting disruption to travel and school closures."
Elsewhere in Scotland a red warning has been issued for parts of the central belt, Fife and Tayside.
Heavy snow and wind have made conditions on the road treacherous, with a warning from Police Scotland for people not to travel in areas with an Amber weather warning.
A lorry has skidded off the road and into a field on the A90 this morning.
Police were alerted to the HGV incident near Mill of Kingcausie, just outside Portlethen at 6.38am.
Officers arrived on the scene at 6.50am, where the lorry was upright and the driver was uninjured.
The vehicle was recovered at 9am and traffic was moving as normal.
A second lorry jackknifed on the A90, near to the Boddam junction, which blocked the road causing queues and delays in the area.
And a bus in Cruden Bay crashed shortly before 10am this morning.
It's understood nobody was injured, however, police officers are remaining in the area due to bad weather.
Stagecoach services in the Aberdeenshire and Deeside areas have also faced disruption.
The 230 between Insch and Strathdon and 219 between Alford and Strathdon have been cancelled for the day, along with the 273 to Gamrie.
https://www.eveningexpress.co.uk/fp/news/local/stagecoach-cancel-services-warn-passengers-buses-will-delayed/
A spokesperson for Stagecoach North Scotland said: "All our services are operating with delays this morning due to road conditions.
"Some areas in Buchan and Deeside have been unable to be served as a result of snowfall.
"We urge customers to allow additional time for travel and to keep up to date with all disruption online at stagecoachbus.com or on Twitter."
A number of flights were also cancelled this morning due to bad weather across the UK.
Flights to and from Newcastle, London and Humberside were among those affected.
The runway at Aberdeen was also forced to shut for a short period to be de-iced.
A spokesperson for Aberdeen International Airport said: "In the event of adverse weather conditions, our airside operations and snow-clearing teams are on standby to ensure Aberdeen International Airport's runway remains fully operational."
Watch: Polar bear makes the most of the snow at Scottish wildlife park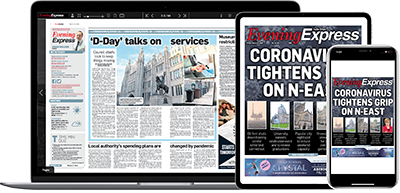 Help support quality local journalism … become a digital subscriber to the Evening Express
For as little as £5.99 a month you can access all of our content, including Premium articles.
Subscribe