Huge beams have been brought to Aberdeen to form a new bridge for the city's bypass.
The construction will carry the Aberdeen Western Peripheral Route (AWPR) over the Aberdeen to Inverness railway line.
And 28 beams, each 20 metres long, were being delivered to Dyce using 14 wide-load vehicles, with each lorry able to carry two beams.
If arranged head to toe, the beams would stretch for 560m (1,837ft) – almost as long as two Eiffel Towers.
Councillor Graeme Lawrence, who represents the area, welcomed the news after recent flooding brought disruption for road users in the locality.
He said: "It's good to see work is going ahead and not being knocked behind schedule.
"Obviously there will be some more hold ups on the roads, but it's good to see it's going ahead.
"I've lost count of the amount of people saying to me that they will never see it completed in their lifetime, yet here it is going ahead on track."
The lorries started arriving on Saturday with loads continuing to arrive until tomorrow.
The trucks travelled north on the A90 Dundee to Aberdeen road before they turned off for the A956, passing Loirston Loch.
They then drove north on West Tullos Road before turning right over the River Dee and then along Riverside Drive. They joined with Holburn Street before heading along Anderson Drive to the Haudagain Roundabout.
The trucks then travelled along the A96, Inverurie Road until they reached the airport roundabout, where they turned onto Dyce Drive.
The beams are to be held at the observation area overlooking the runway at the north end of Dyce Drive until they are ready to be transferred onto the construction site.
As a result, the observation area, which is used by plane watchers, will be closed to traffic until Friday .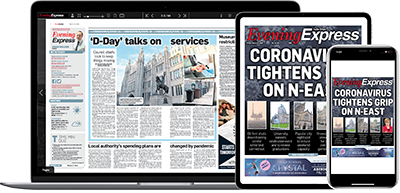 Help support quality local journalism … become a digital subscriber to the Evening Express
For as little as £5.99 a month you can access all of our content, including Premium articles.
Subscribe