Widespread disruption continued across the North-east as the region battles the "Beast from the East" for another day.
Many pupils across the region have another day off school, while events have been cancelled, construction of the AWPR halted and road conditions continued to be trecherous in parts.
The Met Office extended its amber warning in the North-east until 10am today with frequent and heavy snow showers expected.
Almost 30 schools in the city opened late today and a total of 42 also had delayed openings yesterday.
Sunnybank School and Aberdeen School for the Deaf were also closed to school transport pupils today and Orchard Brae School closed to everyone.
In Aberdeenshire, more than 170 primary and secondary schools were be closed to everyone today.
North East Scotland College also closed it campuses until Monday.
Today, a number of roads were either closed or classed as passable with care by police.
Police closed the B967 between Inverbervie and the A90, the A92 at Inverbervie and the A937 from Laurencekirk to Marykirk due to drifting snow.
Officers said there were problems early today on the A90 Fraserburgh to Peterhead road and the A947 Newmachar to Turriff, with both said to be passable with care.
Aberdeen City Council said there were no major issues with bin collections across the city with waste collection crews picking up normal collections on Wednesday and yesterday.
But the council has asked people to be patient if their bins are not collected over the next few days and said waste collection crews will attempt to catch up as soon as they can.
However, residents in Aberdeenshire were warned that if a bin collection has been missed over the past few days then crews will not be able to return until the next scheduled collection date.
The local authority said any excess waste that can't fit in the bin can be taken to the nearest household waste and recycling centre, when the weather improves.
Black bags of landfill waste can be left at the side of the bin in two weeks' time and extra recycling can be put in a cardboard box beside the recycling bin or into black bags which the crews will empty.
Recycling centres closed at 3pm in Aberdeenshire yesterday but were expected to reopen today, weather permitting.
More than 100 council employees were out on the streets – 50 of the regular road crew staff along with 50 of the local authority's parks and garden staff throughout yesterday.
Aberdeen City Council transport spokesman Councillor Ross Grant said the weather was "very demanding" on the council's resources.
He added: "We will continue our round-the-clock gritting operations today with two of our major priorities being to keep the main roads and main pavements clear.
"Our staff will continue to review the forecast during the day and focus efforts in areas where there is most need, such as yesterday when gritters were sent to areas of the city with steep hills and higher ground, where they were getting heavy and persistent snow showers.
"The yellow weather warning is looking likely to be in place for the weekend and we've already arranged for increased numbers of gritting staff then so they are at the same levels as during the week.
"Lastly, we'd ask people to plan any journey they're undertaking and follow local police advice on Twitter and Facebook for road safety updates."
Construction work has also halted on the AWPR over the past few days but some administration staff remain on site.
A Transport Scotland spokesman said: "Due to hazardous weather conditions, and to limit the number of workers travelling to and from the construction site, the only works undertaken were to enhance the safety of workers who remain on site for security and environmental purposes.
"The contact and education space was also closed during this time.
"However, the 24-hour project helpline is still available on 0800 058 8350."
Meanwhile, Union Square was forced to close yesterday due to the "effects of high winds".
Emergency crews attended Cineworld cinema at the shopping centre on Wednesday night after a section of roof came loose.
The centre will reopen today although some stores may remain closed.
The Met Office said further snow showers were predicted, with snow expected to drift due to the strong easterly winds, even when no snow is falling, as well as icy conditions.
Road surface temperatures rose above 0C during the day but dipped below freezing again overnight, which cy conditions in parts.
The Met Office has issued a yellow warning for snow for the region through until Monday with snow showers expected to continue over parts of the North-east, as well as icy stretches on untreated surfaces.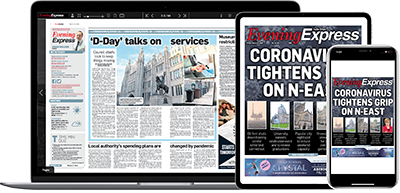 Help support quality local journalism … become a digital subscriber to the Evening Express
For as little as £5.99 a month you can access all of our content, including Premium articles.
Subscribe