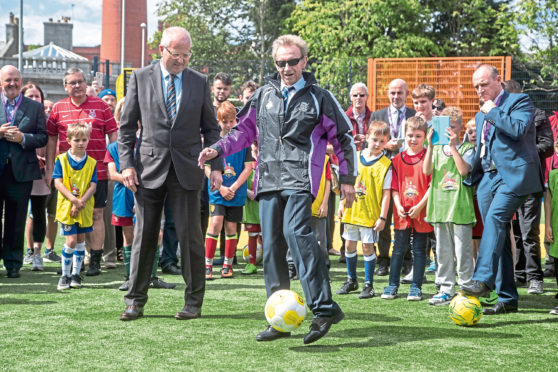 Basketball hoops are to be installed next to a £250,000 Aberdeen sports facility backed by Denis Law.
The former basketball area on Catherine Street in Aberdeen was replaced last year by Cruyff Court.
The facility, which is Scotland's first, is an all-weather artificial turf playing area, and funding for it was set aside in a joint initiative between Aberdeen City Council, the Denis Law Legacy Trust and the Cruyff Foundation.
However, when the facelift was complete, no basketball hoops were reinstalled – something that residents in the area missed.
Aberdeen City Council officers circulated a questionnaire to seek views about the reinstallation of the hoops.
The feedback was "overwhelmingly positive".
New equipment will now be installed next to Cruyff Court.
Councillor Sandra Macdonald had backed a call for the return of basketball hoops for the area and is pushing for more amenities to be included.
She said: "I'm absolutely delighted that the council are going to install new basketball hoops.
"For me, the main important thing that I have asked for is for temporary portable toilets – especially in the summer months. It's been a bit of an issue. The community centre has been very good at allowing people to use the loos there, but getting a portable loo for that area for the summer months will really help."
The push for reinstallation came from the community – and reflects the popularity of the sport.
Mrs Macdonald said: "The community asked for the hoops. Basketball is really popular at the moment."
John Wheeler, the operational delivery convener, said: "We consulted people living in the local area about the proposal.
"The response was over-whelmingly positive and we're delighted to respond to the community's wishes and take this forward as soon as possible.
"We are also in the process of installing basketball hoops adjacent to the new Cruyff Court," Mr Wheeler added.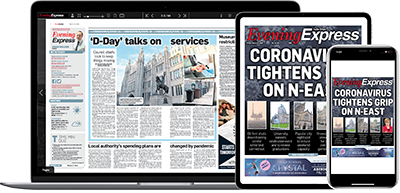 Help support quality local journalism … become a digital subscriber to the Evening Express
For as little as £5.99 a month you can access all of our content, including Premium articles.
Subscribe