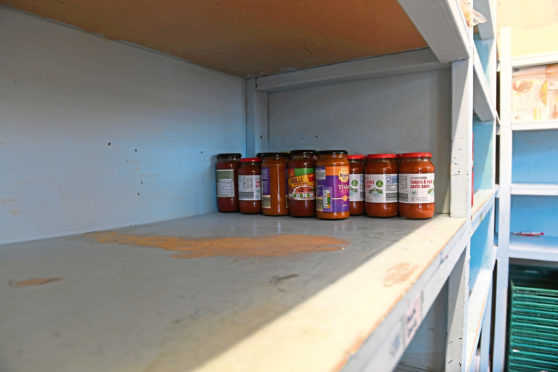 Foodbanks in the north-east are struggling to meet demand – and say school summer holidays and Universal Credit are to blame.
Three charity foodbanks in Aberdeen said they have seen a rise in users this summer, with one saying it fits into a year-long trend.
Instant Neighbour, based on St Machar Drive, struggled to the point of having nothing to give out at the end of last week.
Dorothy Goldie, the charity's office manager, said: "We've certainly seen a rise in clients.
"We've already had eight new clients since the beginning of the month.
"We've seen an upsurge in the last few weeks, and have put out 51 parcels in August. That's despite us not having anything to give out last Wednesday and Thursday, we couldn't make any food parcels.
"We managed to get a very generous donation from CFine of some fresh food, but all we could offer clients was bread, milk and cereal."
So far this year, Instant Neighbour has handed out 3,500 food parcels – almost three times the number that were given out in the whole of 2012.
Dorothy believes the rise during the summer is linked to the school holidays.
She said: "I think that it might have something to do with the kids being off school, and not able to get school meals, so their parents are having to pay for food.
"They might have to pay for holiday clubs or other activities to keep the kids amused."
Dave Kilgour, development work manager at CFine, has also spotted a rise over the summer months.
He said: "We're still managing to put food out, but the amount of stuff that we've got is very low. We've seen a massive rise in the amount of people who are requiring food parcels over the last couple of months.
"We've been putting out between 80 and 100 parcels a day.
"During the summer period, families struggle to get by because you've got your kids at home, they're wanting activities.
"That has a knock-on effect on your budget."
Fiona Whitehouse, project manager at Aberdeen Cyrenians, said: "We haven't seen a huge uptake this summer, but we have for the entire year.
"Last year we gave out an average of 189 parcels a month, this year we've averaged 269 food parcels a month. In general, we're seeing a bigger uptake than we've seen before."
Fiona believed the partial implementation of the controversial Universal Credit benefit system has put a strain on families, causing the surge.
She said: "Changes to the benefits system has meant some people have had to wait for their payments to come through, and that has put an extra bit of strain on them."
Dave also agreed benefits changes have had an impact. He said: "We've seen some reforms to the benefits system, which has resulted in delayed payments for people. This means that they come to us more often."
Donations to Cyrenians have increased, according to Fiona. She said: "We have got more donations, it's just that we need more to meet the demand that we're seeing."
Jenny Laing, co-leader of Aberdeen City Council, said: "In February, we expanded a project to provide 10,000 free meals for children during school holidays as the 2017 pilot project showed it provided a support to parents and children during what can be difficult holiday periods.
"It is vital that we give young people in Aberdeen the best opportunity to realise their potential and this is an example of a way in which the council can play its part."
Despite foodbanks stating Universal Credit had led to rises in their use, the UK Government said it was "working for the vast majority".
A DWP spokeswoman said: "The reasons why people use foodbanks are complex, so it's wrong to link a rise to any one cause.
"Universal Credit is working for the vast majority who claim it. We've already made significant improvements to Universal Credit.
"We continue to spend around £90 billion a year supporting people who need it, including those who are out of work or on a low income.
"Work is the best means of providing people with financial security, and with our welfare reforms people are moving into employment faster and staying there longer than under the old system."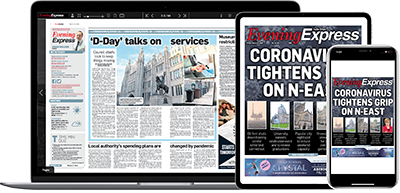 Help support quality local journalism … become a digital subscriber to the Evening Express
For as little as £5.99 a month you can access all of our content, including Premium articles.
Subscribe