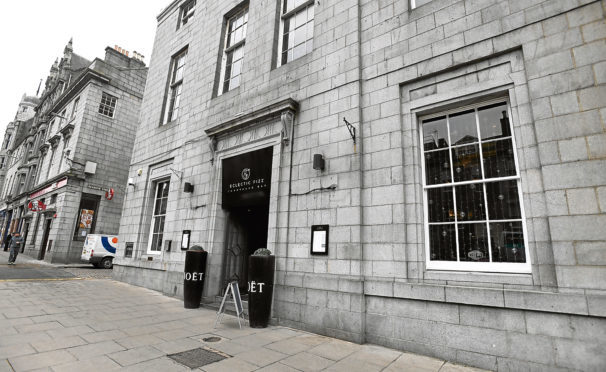 The manager of an Aberdeen bar today hit out at council chiefs for trying to make the building look better only for it to "look worse".
Last month the Evening Express reported Eclectic Fizz champagne bar, on Union Street, was forced to take down a sign on the orders of Aberdeen City Council because it obscured a fan light.
The bar's general manager Finlay McIntosh said he was puzzled as to why the local authority was implementing a planning restriction for a fan which had not been visible for 32 years.
Mr McIntosh even took his fight to the Scottish Government, but ministers rejected his appeal to keep the sign in place.
Now, Mr McIntosh has removed the sign – and claims the building looks worse.
"The council has had us remove the sign to reveal a fan light that is of architectural interest.
"However, the fan light has been obscured from work that was done on the building in 1986, and what's left is a real eyesore," said Mr McIntosh.
"The window is now in a real state – and it's all because we were made to remove the sign so it could be on display.
"The council thought it would look better, but it looks worse."
Mr McIntosh said that, on the same day the bar received the order to remove the sign, the council encouraged him to apply for a grant from a fund set up to improve the appearance of buildings on Union Street.
"It is an absolute farce that we are being forced to spend thousands of pounds to remove and replace perfectly good signage and then encouraged to apply for a grant.
"That grant funding would be spent on a roof that is not visible to anyone standing on Union Street anyway," said Mr McIntosh.
An Aberdeen City Council spokesman said: "When the sign was in place, it was considered to adversely affect the character of the listed building and visual amenity impact of the conservation area.
"Despite repeated requests to submit proposals for alterative signage for the premises, no such proposals have been submitted to the planning authority."