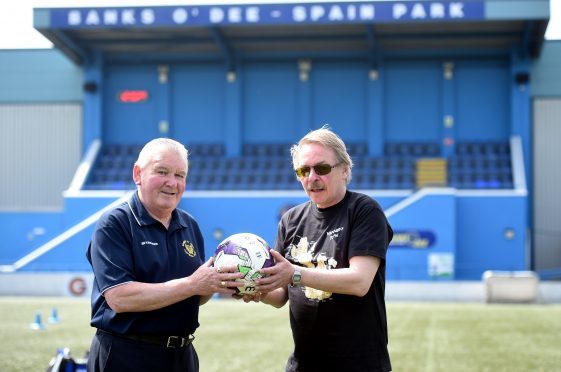 A football that was booted off an Aberdeen pitch and ended up 1,100 miles away has been returned.
Johnny Mikalsen kept a promise made in April to return a ball that was found on a small island off Norway.
The ball is one of the many which tend to disappear over the fence at Banks o'Dee's Spain Park into the River Dee during games and training sessions, but is the only one that has returned from another country.
It is thought the ball was swept down the river and made its mammoth journey across the North Sea, around the northern coast of Norway to Vanna, a small rocky island in the municipality of Karsoy in Troms county.
Johnny's friend Nils Hugo Anderson found the ball 1,800km north of Aberdeen, on the island, 10km north of Tromso, the capital of North Norway.
Shock after ball booted off Aberdeen football pitch washes up 1,100 miles away in Norway
Johnny, 60, said: "I had got a whisky tour from friends as a birthday present, so this was the perfect chance to come over to Scotland."
On arrival at Spain Park, Johnny was presented with gifts from the club including his own Banks o'Dee football top. Standing on the pitch, Johnny added: "I think they need a bigger fence, maybe more than 20 metres would do it to stop another ball."
The story, which was revealed by the Evening Express, went global with media outlets across the world sharing the story.
Dee secretary Tommy Ewan admitted he was stunned to receive an e-mail from Johnny, containing a picture of the ball and was glad to receive the football back.
He said: "I was amazed when Johnny contacted us by e-mail with the Banks o'Dee ball.
"Looking at the condition of the ball, it looks a recent ball, when it happened we don't know though.
"The ball is going into the trophy cabinet along with a T-shirt Johnny has kindly given us with a map of the island it was found on.
"We've had comments from as far as Australia, it has raised the profile of the club and has been a great story."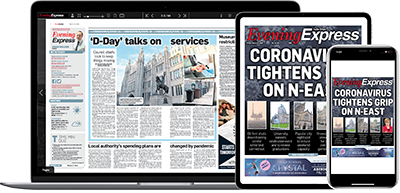 Help support quality local journalism … become a digital subscriber to the Evening Express
For as little as £5.99 a month you can access all of our content, including Premium articles.
Subscribe