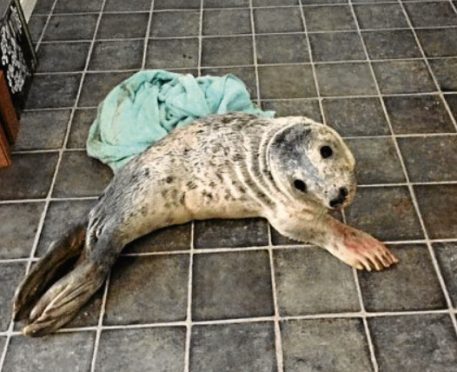 A tiny seal that tried to seek refuge in a North-east woman's home has been collected by the Scottish SPCA.
The baby grey seal was plucked from Pitullie, near Fraserburgh, on Tuesday evening by the animal welfare charity.
The Scottish SPCA said it had been taken to a specialist vet to determine whether there were reasons it became separated from its mother.
A spokeswoman said an update was expected on its condition, but could only confirm that one of the group's officers had attended to collect the animal.
The seal was reported to the charity by the home's owner, Susan Smith.
The Scottish SPCA has advised anyone who comes across a grey seal to get in touch with them before approaching it.
Colin Sneddon, the manager of the charity's National Wildlife Rescue Centre, said: "This includes seals who appear injured, are found on public beaches or are spotted in unusual places such as non-breeding areas.
"Unfortunately we are often contacted about seal pups who are healthy but have been abandoned by their mothers because someone has disturbed them."
Anyone who discovers an injured or distressed wild animal should call the charity's animal helpline on 03000 999 999.