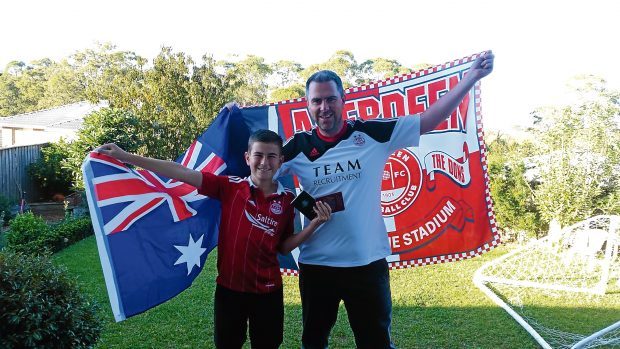 Two Australia-based Aberdeen fans who booked to fly to the Scottish Cup final without having tickets for the match have been saved by a pair of good samaritans.
Dad Allan McCarlie spent £2,000 on flights to take his 10-year-old son Jamie to see their beloved Dons in the Scottish Cup final against Celtic later this month.
But with other supporters snapping up the tickets, they were worried their 21,000 mile round trip might be in vain.
After a desperate appeal on social media, their pleas were answered as fellow fans secured them seats at Hampden – and a bonus pair of tickets for Wednesday's game against Rangers at Ibrox.
Aberdeen fans Euan Duthie and Glen Schreuder were the heroes of the hour, sorting out tickets for the pair.
Neither man knew Allan, who lives in Sydney, but felt compelled to help out their fellow Dons fan.
After hearing a friend was unable to attend the May 27 match against Celtic, father-of-two Euan decided to offer the tickets to the dad and son, who arrive in Edinburgh tomorrow.
And as if that wasn't enough, that was followed up by Glen offering the pair admission for Wednesday's game against fierce rivals Rangers.
Father-of-two Allan was humbled by the generous offers of help from total strangers, adding he had "at least another six or seven offers".
He said: "Sometimes I feel a million miles from Scotland and Pittodrie, but actions like this make me still feel very much a Scot and definitely forever a Don.
"I have never met them. Euan had two spares for the final and was very helpful. Glen mentioned he had none for the final but had two for Ibrox."
Originally from North Lanarkshire, Allan has lived Down Under since 1998 but has followed the team from afar.
Previous family trips to Britain have featured stops at Pittodrie, while father and son also watched the League Cup final last year in the "middle of the night wearing jersey and scarf over pyjamas".
Allan, 43, was present when Aberdeen last won the competition in 1990 and wanted to share that experience with his son.
He joked he would have dressed up as a mascot to gain entry to Hampden but with two tickets sorted, he can relax and thanked the "best fans in the world".
The two happy helpers were both delighted to be able to offer assistance to let Jamie take in his first Hampden experience.
Euan said: "I just saw his post on Twitter and I'm actually running four buses down to the cup final anyway.
"I was going to try and see about getting him tickets but not long after I read it, a guy on one of the buses said he couldn't go so it worked out nicely.
"It just seemed a nice thing to do when they're coming all that way."
Glen, an account assistant with Peterson Ltd, said: "I was encouraged to help out because if someone is prepared to make such a long journey to support the team then they should be rewarded.
"I am hoping to meet him, and it is great to see how far and wide the fans are travelling for the final."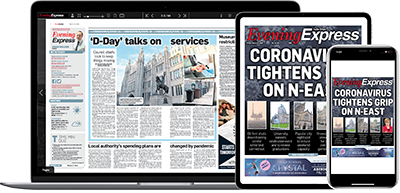 Help support quality local journalism … become a digital subscriber to the Evening Express
For as little as £5.99 a month you can access all of our content, including Premium articles.
Subscribe