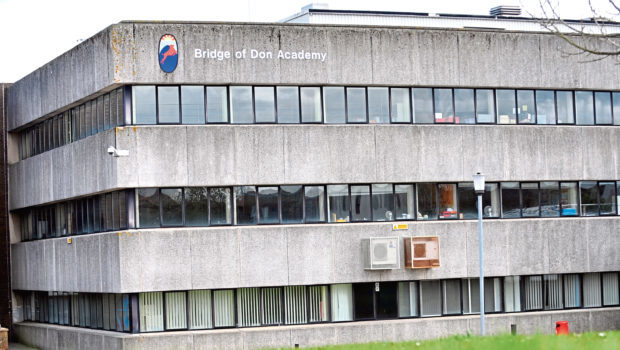 An Aberdeen school is to reopen to students after several staff were exposed to asbestos.
Bridge of Don Academy is under investigation after the discovery of the carcinogenic material during maintenance work last month.
Aberdeen City Council confirmed the facility will reopen as normal after the summer holiday, despite calls from Unite the union to keep it closed until it sees proof that the dangerous material has been safely removed.
An Aberdeen City Council spokeswoman said: "After receiving the necessary authorisation from the Health & Safety Executive to proceed, the asbestos was removed during the weekend of August 4-5 2018.
"The works were undertaken following all asbestos regulations and the necessary certificates granted. Trade unions have been informed of the removal of the material.
"As the area has been made safe, the school will resume normal operations and reopen after the summer holidays.
"As the investigation is continuing, it would be inappropriate to comment further."
Asbestos material was disturbed by building service workers during the removal of a panel in a corridor on July 12.
It was later taken away for testing and confirmed as asbestos, while part of the school was sealed off.
Aberdeen City Council apologised to Unite for the lack of communication regarding the removal.
The union's spokesman Tommy Campbell, pictured, said: "We have now been told that a certificate has been issued but we still haven't been shown it, and until we see that evidence the site should remain a no-go zone.
"It's almost been a month since the incident and the services have broken all the procedures and have lost our trust.
"The issue wasn't reported by the management until after a week. I am demanding to see the evidence of the certificate, with a clear statement saying that is safe for people to return.
"While we accept their apology we have still not received any explanation as to why Unite Reps were not briefed on the asbestos removal work that the Council says was done last weekend.
"We are still awaiting to see a copy of the Asbestos Safety Certificate issued by the asbestos removal company.
"This reflects badly on the Council because it took the Union yet again to complain that our Reps are being kept in the dark.
"Disappointingly, despite all our complaints, it appears that the council never learns from its mistakes when it hasn't communicated properly with the staff or the Unions in the past.
"We await with interest to read the council's internal investigation report and the independent investigation the HSE are also carrying out into this recent asbestos exposure at Bridge of Don academy."