Artists have descended on Aberdeen to begin painting before the start of the Nuart festival this weekend.
Norwegian artist duo Nimi and RH74 arrived on Monday to start work on their Union Row mural, inspired by the story of the Green Lady of Crathes Castle.
Measuring an impressive 200 square metres, it is part of a 'giants' series, with a sister piece, Sofia and the Mountain, produced in Stavanger in 2016.
One of the two behind the piece, Bergen-based Nimi, said: "I like national romanticism, it's part of my giants in the city series, so I have four or five of these.
"It's not about scale, I have got a background in architecture, so I want to approach it by looking at the walls next to me and behind me.
"It is going to be a really strong area when it is done."
The pair began working on Monday night, with their design being projected onto the building before being sketched out, due to its scale.
Nimi added: "We only have four days to do it, so we have to allow ourselves to stop.
"As artists, we never give up. If we had more time, we would keep going and keep adding more detail."
James Finucane, festival manager, said: "This year we have moved more into the west end."
The programme of activities includes more participatory workshops than last year, to get people taking part – all you need to become a street artist is something as simple as a stick of chalk.
James added: "The aim is to democratise art and show people they can be an artist even if they don't have an art education.
"We are doing a chalk workshop, which is the most primitive form of street art. When you see art on the street, you kind of question why it is there. If it's in an art gallery you're told it's of worth, but on the street you're left to decide for yourself."
Nuart Aberdeen will run from tomorrow until Sunday in various locations around the city centre and west end.
There is also a programme of talks running over the festival period, as well as an exhibition, walking tours and a launch party.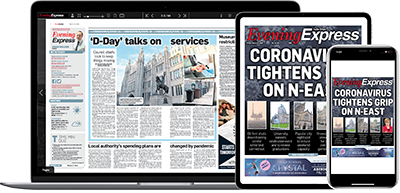 Help support quality local journalism … become a digital subscriber to the Evening Express
For as little as £5.99 a month you can access all of our content, including Premium articles.
Subscribe