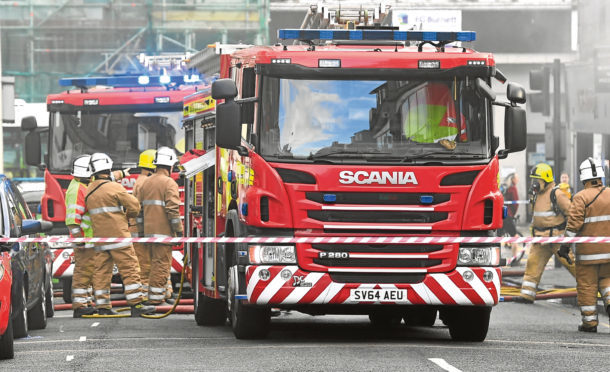 Aberdeen residents and firefighters could be put at risk by a lack of available crews, a union leader said today.
The Evening Express has learned fire chiefs withdrew two fire engines from service in Aberdeen for 14 hours earlier this week – leaving just four covering the entire city.
The shortfall, on Monday and Tuesday, is the fourth one in the city since March 29, leading to the Fire Brigades Union to issue a warning over the shortage.
A union representative said that if all four appliances had been called to a blaze and another had broken out, elsewhere crews may not have been able to respond in time.
Chris McGlone, FBU executive council member, said: "If you take (Wednesday's) fire in Torry – if something like that had happened during the shortfall then it could have compromised the safety of the community and firefighters, had another incident happened.
"A house fire doubles in size every minute and the two most important factors in dealing with that fire is the speed by which you can arrive and the weight of your resources.
"If someone calls 999 and is trapped in a house and you are having to send resources from somewhere that is more than 10 minutes away – or even a retained crew from somewhere such as Stonehaven – are they going to be able to get there quickly enough?"
During Wednesday morning's fire at a block of flats on Victoria Road four of the city's six appliances attended, as well as a height vehicle, which requires only a driver.
Mr McGlone added: "There is a reason we have six appliances."
He said appliances are usually taken out of service because there are too many inexperienced staff on duty and rules mean there must be a mix of senior and junior firefighters on each appliance.
Other factors, he said, are the rising number of retiring firefighters and the number of firefighters from other parts of Scotland transferring nearer home.
Aberdeen has six appliances – two each at North Anderson Drive, Central station and at Altens.
On March 29, two fire engines were taken out of service at Altens between 8am and 6pm, while one engine was taken off the run on April 11.
Then on Sunday two appliances – one at Central and one at Altens – were taken out of service, with cover being supplied by an appliance from Arbroath.
Most recently, two appliances were taken out of service on Monday evening.
Appliances from outwith Aberdeen were brought in during the first two of those shortfalls – but not the most recent one.
SFRS local senior officer Bruce Farquharson said of the latest incident: "Capacity in our system allows us to maintain safe levels of operation and the public can be confident that we never drop below this safe level.
"Additionally, both appliances were returned to full operational capability from 8am.
"In March, appliance availability in Aberdeen City was over 90%. It was 100% in Aberdeenshire and Moray – and 98% across the north service delivery area."
SFRS deputy assistant chief officer for the north service delivery area David Farries said appliances have recently been taken off the run in the city due to factors such as staff training in water and rope rescue and driving.
He added: "Over the past year, we have welcomed 189 new wholetime firefighters, and this includes seven who passed out on April 13 and who are now looking forward to joining stations in Aberdeen and Aberdeenshire.
"Around 100 firefighter recruits will begin their training over coming weeks and this also includes 26 who will undertake this training at Portlethen.
"I would like to take this opportunity to commend our firefighters who worked effectively earlier this week to protect the community when a fire took hold within a residential property in Torry.
"SFRS exists to save lives and continues to attend at every emergency."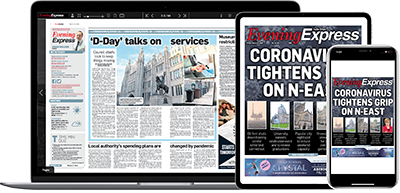 Help support quality local journalism … become a digital subscriber to the Evening Express
For as little as £5.99 a month you can access all of our content, including Premium articles.
Subscribe