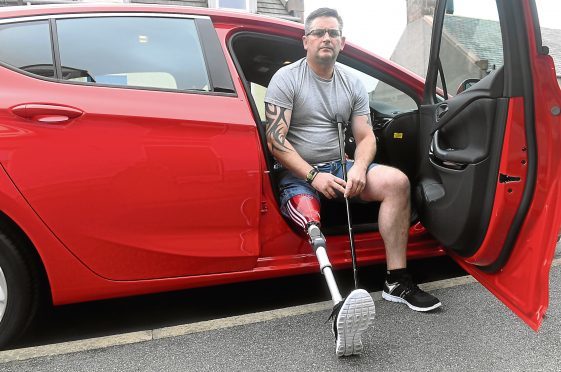 A North-east man who lost his leg has hit out at the government department that has ruled he is no longer eligible for a car.
Marc Wilson, who lives in Rothienorman, has said he feels let down by the Department for Work and Pensions (DWP) which has said he is no longer eligible for payments towards a specially adapted vehicle.
The 48-year-old, originally from Aberdeen, had to get his leg amputated in December 2015 after complications arising from blood clots in his leg.
Marc spent six weeks in hospital and has now lost his mobility allowance after what he feels was an unfair change of questioning.
He said: "When I was first tested to see if I could get mobility allowance the question in 2016 was how far I could walk unaided and, without my prosthetic, I can't walk anywhere.
"This gave me the maximum points allowed in the system and I started to receive the benefit as I can only drive an automatic car.
"I have an automatic car which has been adapted as I can only use my left leg to drive. However, when I got asked again this year the question had changed to how far can I walk aided and I answered honestly as I feel I can walk 20 metres with help. How can the distance I walk dictate whether I get a car?"
Marc, who formerly worked in health and safety for the oil industry for 25 years until he was made redundant but now works for Tesco Mobile, said he needs the car to get to work.
He said: "I need a car as there isn't always public transport out here. It affects where I can get a job and bring in money for my family. If I can't get Motability then I wouldn't be able to work and I would end up on more benefits."
Marc has formally disputed the decision and is waiting to hear back from the DWP on the appeal.
He added:"I don't like the way I'm being treated by the Department for Work and Pensions.
"I feel you get treated like less of a person to a degree."
Marc was initially awarded the enhanced rating in March 2016 when he was just out of hospital and was awaiting for his prosthetic leg but this was decreased the following year as he was fitted with the leg and could now walk 20m unaided.
A DWP spokeswoman said: "Decisions for Personal Independence Payment are made after consideration of all the information provided by the claimant, including evidence from their GP or medical specialist. Anyone who disagrees with a decision can appeal."