Amazing Oor Wullie donated to Aberdeen mental health facility
A new mental health facility in Aberdeen is the now the home of a high-profile resident – Scotland's favourite comic character.
Amazing Oor Wullie – a clown-themed sculpture which featured as part of Oor Wullie's Big Bucket Trail – has been installed outside the Child and Adolescent Mental Health Service (CAMHS) unit on Urquhart Road.
The statue, which was part of the nationwide trail held to raise money for children's hospital charities including the Archie Foundation, was bought at auction by Wood PLC.
The organisation bought the sculpture for £15,500 – the highest amount paid for any of the Oor Wullies on the night.
Wood has now raised a quarter of a million pounds for the Archie Foundation over the last five years.
Tony Dinozzi, group head of M&A at Wood said: "Wood has a close relationship with the Archie Foundation, having raised £250,000 for the charity over the last five years.
"We are delighted to continue supporting services for children and young people in Aberdeen with the donation of the Amazing Oor Wullie clown statue to the Child and Adolescent Mental Health Service.
"We unveiled the statue at the opening of the new CAMHS unit on 2 October. I hope that the statue will bring a moment of joy to everyone who enters the CAMHS unit."
Jamie Smith, regional fundraising manager at the Archie Foundation, said: "It's a huge donation and we are very grateful to everyone at Wood for the support they give us.
"The sculpture is sitting outside the CAMHS unit and to have it there is amazing.
"Hopefully it gives people something to smile about as they are going in and out of the facility. It's really nice to have it there.
"Wood have been really supportive of the Archie Found ation for a number of years and it's fantastic to have them on board with what we do.
"Everything they do for us is greatly appreciated and goes a long way towards improving children's healthcare in the north-east."
The bucket trail was held across Scotland's five main cities – Aberdeen, Glasgow, Edinburgh and Inverness.
Sculptures were placed around each city, and visitors were able to chart how many they had visited using the dedicated smartphone app.
More than £1.2 million was raised in total across all five cities.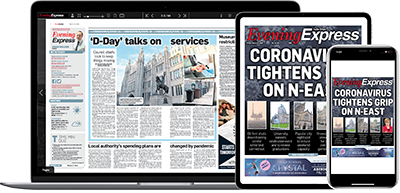 Help support quality local journalism … become a digital subscriber to the Evening Express
For as little as £5.99 a month you can access all of our content, including Premium articles.
Subscribe