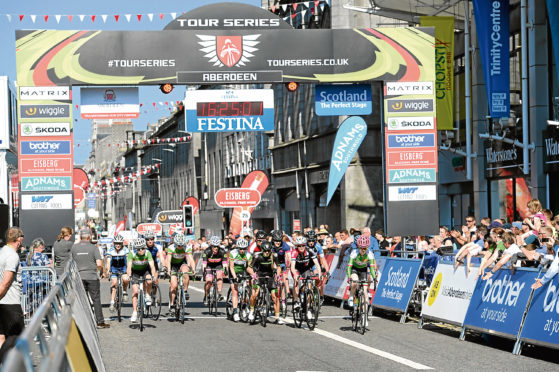 The OVO Energy Tour Series will see the country's top cyclists take part in a number of races throughout the city centre.
Drivers have been urged to avoid travelling into the area.
A number of road closures and restrictions will be put in place and will include Union Street, which will close from Market Street to Crown Street from 6am tomorrow until 1am on Friday.
Roads closed between 6am on Thursday and 1am on Friday
St Andrew Street, between Blackfriars Street and Charlotte Street
Blackfriars Street, between Schoolhill and St Andrew Street
Rosemount Viaduct and Schoolhill, between Skene Street and Back Wynd
Union Terrace, between Union Street and Rosemount Viaduct
Diamond Place, between Diamond Street and Union Terrace
Belmont Street, between Schoohill and Union Street
Little Belmont Street, between Back Wynd and Belmont Street
Gaelic Lane, between Back Wynd and Belmont Street
Back Wynd, between Schoolhill and Union Street
Diamond Street, between Union Street and Diamond Lane
Union Street, between Market Street and Crown Street
Bridge Street, between Union Street and Wapping Street
Roads closed between 4.15pm on Thursday and 1am on Friday
Schoolhill and Upperkirkgate, between Back Wynd and Flourmill Lane