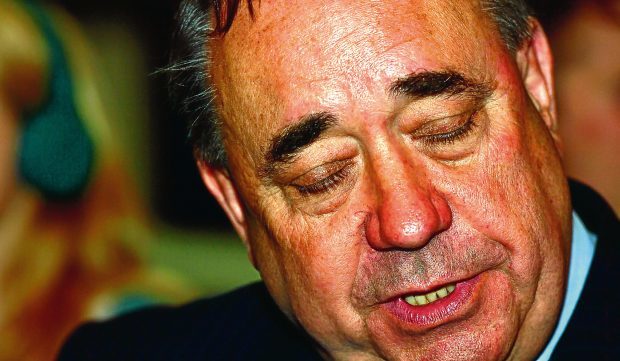 Former First Minister Alex Salmond said today voters had "not seen the last" of him as he lost his seat to the Conservatives.
The SNP lynchpin and ex-party leader was defeated by Colin Clark in Gordon.
Mr Salmond, the SNP's foreign affairs spokesman, had swept to power in the seat with a 8,687 majority in 2015 – overturning decades of Liberal Democrat MPs.
But he was defeated by Mr Clark who received 21,861 votes – a majority of 2,607.
Mr Salmond refused to rule out standing again, saying he had learned in the past three years to "never say never".
He added: "I've been in politics 30 years, politics has slings and arrows and we must expect the democratic verdict of the people. It's been a privilege to win nine elections in the North-east of Scotland, that's not too bad a batting average."
He added: "You've not seen the last of my bonnet and me", quoting a Jacobite song.
Mr Salmond said the loss of so many SNP MPs was a "grievous blow" to the party but added: "The SNP strength is in numbers and we have more seats and votes than the other parties in Scotland and more seats than them put together.
"That is a formidable position but of course the strength and influence of the SNP group at Westminster depends not just on them but on the balance of arithmetic in the House of Commons.
"One of the ironies of tonight is an SNP group reduced in numbers but albeit still a majority of Scottish MPs is going to have, it looks like, huge, substantial influence in the House of Commons."
Mr Salmond, who has never lost an election up to this point, said the results would not affect Nicola Sturgeon's position as leader of the party but questioned Theresa May's ability to continue leading the Tories
Mr Clark, who was elected as an Aberdeenshire councillor last month, said: "We had a very hard campaign, the Scottish Conservatives held their heads high to our main point and we got there.
"It was great honour to represent Gordon and I am delighted we managed to do it.
"The SNP threw everything at us, absolutely everything but we kept going with our message and kept our heads high.
"The people of Gordon have spoken and stuck with us and I am delighted by that.
"I will represent the constituency with the best of my ability. I can't wait to get going."