A north-east woman is speaking out in the hopes of breaking the stigma surrounding bowel issues.
Alannah-Jayne Simpson, of Huntly, has had a stoma since the age of 20 and ahead of World Ostomy Day today, wants to reassure people in similar situations that "having a stoma isn't so bad".
Though the 23-year-old, who lives with her Yorkshire Terriers, still suffers from various health issues, Alannah-Jayne admits that getting the major operation was the best decision of her life.
Alannah-Jayne, who was diagnosed with Crohn's and ulcerative colitis at the age of 17, said: "I really want to show others, including young children and babies, that having a stoma isn't so bad.
"It has massively improved my life and I wish I had done it sooner.
"Previously whenever I would go out, I would be anxious about having to find a bathroom but now that's not an issue – I can go to the cinema, I can travel."
Despite Alannah-Jayne's happiness over the improvements to her life, she admitted her journey had not been an easy one.
She said: "I started experiencing symptoms at around age 13, but it wasn't until 17 that I got the diagnosis of Crohn's disease and ulcerative colitis. I'd been having recurrent tonsilitis and glandular fever – one year, I got tonsiltis 13 times.
"I was constantly on antibiotics when I was younger."
Alannah-Jayne, who details her experiences in an online blog, added: "Now, managing my health is a full-time job and I want people to realise that the surgery doesn't make you better automatically – what works for some doesn't work for others."
The chronic illness advocate had tried to set up a support group in Aberdeenshire in 2015, but attendance had been slim.
She said: "I did try and I got funding to set it up, but attendance meant I couldn't keep it going.
"So, I just want to let people know this way that getting a stoma isn't the end of the world.
"There are ways to dress around it too – I have items from a company called Vanilla Blush that designs clothes with stomas in mind.
"You can even get their underwear on prescription so if people are concerned about money, that is a lifesaver."
Those interested in reading more about Alannah's journey can follow her progress online at
bit.ly/2QwVtnf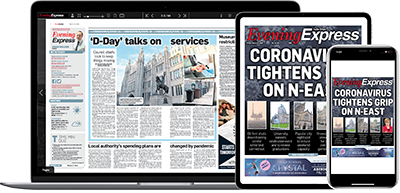 Help support quality local journalism … become a digital subscriber to the Evening Express
For as little as £5.99 a month you can access all of our content, including Premium articles.
Subscribe