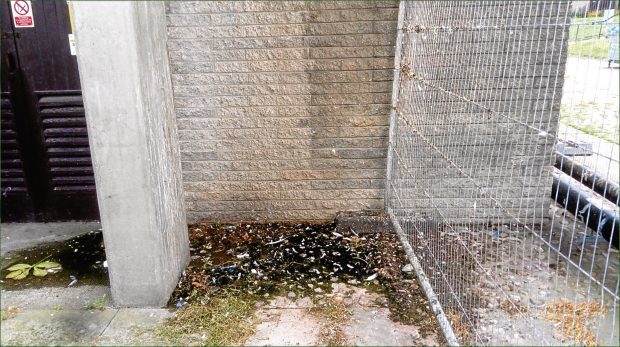 A local authority is to take action against pigeons causing a nuisance at an Aberdeen high rise.
Aberdeen City Council is in the final stages of employing a contractor to fix the bird problem at Donside Court in Tillydrone.
It comes after residents complained about the number of pigeons living close to the entrance and creating a mess.
Jim Low, 46, who has lived in the building for 15 years, complained about the mess made by the pigeons.
He said: "There has been a problem with pigeons here for about three years after a new heating system was installed.
"The pipes on the outside of the building should be covered up, so should a hole where the pigeons are staying.
"Some of the people can hear them if they live on the first floor and others have moved.
"There is bird mess everywhere which needs cleaned up and the hole where they live also needs to be fixed.
"We just want rid of the pigeons that are causing a mess."
Councillor Ross Grant, who represents the area, said: "I've raised these issues with officers as soon as it was brought to my attention.
"Clearly the issue must be rectified and I have asked officers to investigate and remedy to everyone's satisfaction as a matter of urgency."
Cllr Jim Noble, who also represents the area, added: "Officers are aware of the problem with pigeons and are looking into it.
"It is outwith the skill of the council workforce so they are currently looking for contractors to carry out the work.
"Pigeons are a big problem and it is important that the council employ the right contractors for the job.
"We don't want the contractors carrying out the work and the pigeons coming back causing problems for the residents.
"Nobody wants that kind of problem in their area so the sooner it is fixed the better."
An Aberdeen City Council spokesman said: "We are aware of the issue and are in the final stages of appointing a specialist contractor to carry out remedial work."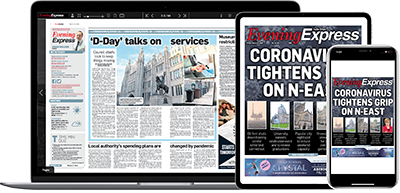 Help support quality local journalism … become a digital subscriber to the Evening Express
For as little as £5.99 a month you can access all of our content, including Premium articles.
Subscribe