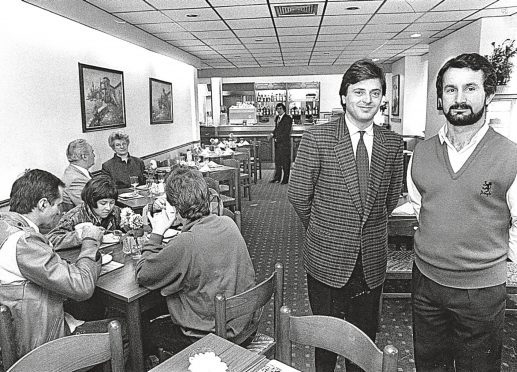 A university lecturer has shed light on the Aberdeen's unlikely involvement in Italian organised crime in her new award-winning book.
Dr Felia Allum has recently published her research into the Camorra – the mafia-style crime syndicate which originated in southern Italy in the 1990s.
The senior lecturer in Politics, Languages and International Studies at the University of Bath compiled her research during trips to Rome and Naples and interviews with organised crime gangs who gave evidence against former colleagues and live under witness protection.
The book, titled The Invisible Camorra – Neapolitan Crime Families across Europe, explores the path of those involved with the syndicate, some of whom moved to Aberdeen to lay low.
Most notable among her interviews was one with the cousin of the La Torre brothers – one of whom set up a cell in Aberdeen.
During her research, Dr Allum unearthed details of the La Torre clan in the North-east from 1984 until 2005, and though they set up an admittedly "tiny cell", the Granite City became "a natural extension" of the clan based in Mondragone, Italy.
Antonio La Torre – who ran a pizza restaurant in Aberdeen – was named by Italy's parliamentary anti-mafia commission as a senior figure in the Camorra, and was convicted for Mafia association, extortion and possessing weapons.
An investigation into La Torre's connections to the city in 1992 stated: "Italian police and British customs officials have been jointly probing La Torre, who is a partner in the Sorrento restaurant in Bridge Street in Aberdeen city centre.
"(The operation) started after an international arrest warrant was issued by the Italians for La Torre, who left his native country and settled in Aberdeen with his Scottish wife."
Dr Allum urges people not to over-sensationalise the Mafia connections, but not to ignore them completely.
In her book, she said: "The danger may not be visible as violent mafia murders, frenzied shoot-outs, and puddles of blood on the pavement, but the virtual invisibility of the camorristi (members of the group) stems from their capacity to hide their origin and invest their illegal cash in legal European economies."
In 2005 Antonio La Torre – dubbed "The Don on the Don" – was extradited to Italy, where he was jailed for 13 years.