A popular street art festival has been hailed a success – with a call for wall space for next year already being made.
International street festival Nuart which has transformed the walls of Aberdeen came to an end yesterday.
The event, delivered by business organisation Aberdeen Inspired in partnership with Nuart Festival and Aberdeen City Council, is now in its second year.
It has seen a team of international, national and local artists develop their latest works on walls around the city centre. Festival artists from Argentina, Lithuania, Norway, Portugal and the UK have been working across the city centre throughout the week.
The theme for this year's festival was 'A Revolution of the Ordinary' which investigated the parallel world of non-institutional art and culture through an extensive programme of artist talks and debates, film screenings, guided tours, workshops and events.
Adrian Watson, chief executive of Aberdeen Inspired, said: "I am so pleased with how it's gone – you don't often see this kind of bold and ambitious thing in Aberdeen so we are very proud.
"To hear people say it's one of the best things they have seen in Aberdeen in decades is great.
"It's absolutely wonderful to see hundreds of people out especially for Nuart and not just local people, but those from the Nordic countries.
"There's obviously an added dimension from a business perspective, the organised tours running from now until the end of September bringing thousands of people to the city who will hopefully buy a coffee and rediscover parts of the city they hadn't been to in a while.
"It was always going to be hard topping last year but judging by the feedback we've had so far, it sounds like we have.
"We don't have final numbers yet but it's definitely higher than last year, and of course people can come to view this year's art as well as last year's, anytime. The visitations are continuous."
The programme of events started on Thursday ahead of the festival's public opening which took place at The Green at midday on Saturday.
And during the weekend there were 90-minute walking tours of the latest street art, where guides took groups on a walk from Aberdeen city centre to the west end; taking in large-scale murals as well as the smaller, hidden artworks created at this year's festival.
Organisers say 250 people signed up to each walking tour.
Festival manager James Finucane said: "It's great to see so many people out and about exploring the city.
"All the crew have worked so hard. It is such a pleasure to walk around the city and see people interacting with the work and talking about the pieces.
"It's been so nice with all the feedback we have received from people, they have been so forthcoming with that. Some of the reservations of talking about art has been lost. People are getting stuck in – that's the goal, to get people engaged in the work."
And plans are already under way for next year, Mr Finucane said: "The process of finding walls for next year starts in earnest, and we'll start to think about the artists. We have a shortlist in mind, providing we can find the walls and people are willing to donate them and get a little bit of Nuart on their building, then we will be good."
Anyone interested in providing wall space for the artists should contact callforwalls@aberdeeninspired.com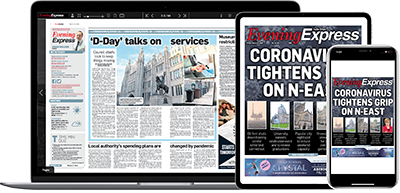 Help support quality local journalism … become a digital subscriber to the Evening Express
For as little as £5.99 a month you can access all of our content, including Premium articles.
Subscribe