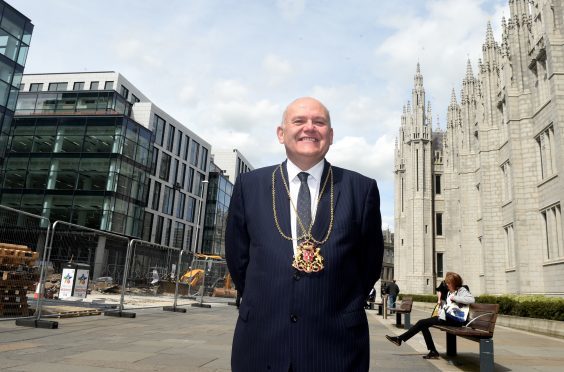 Aberdeen's Lord Provost has said he and his suspended Labour party colleagues could not turn down the offer of a coalition with the Conservatives and independents after the Tories agreed to their entire manifesto.
Speaking to the Evening Express, Barney Crockett said he would not "be involved in the nuts and bolts" as that was a matter for the administration.
He said: "The unusual circumstance in this coalition is the Conservatives agreed to all of Labour's manifesto – I will not be involved in the nuts and bolts, that's a matter for the administration. How could you turn down the offer for having a total acceptance of your manifesto?"
Explaining how he could square his own beliefs by working with the Tories he added: "We are in complex situations all over Europe. Where you have multiple parties you have a range of coalitions, for example it's the same practice in Germany, which has been run by a similar link-up to Aberdeen for the last decade.
"All sorts of coalitions are in power across Northern Europe where you have this voting system. Social democrats have been working as the government and there are similar models of parties over Northern Europe. You can square it in this instance because parties are looking to make the most of things for their political views."
The Lord Provost revealed he was "doubly surprised" to be elected to his new role and denied it had in any way been as part of a deal not to challenge for leadership of the local Labour group.
"I was doubly surprised; firstly, I was surprised to be the nomination for the administration parties, which was a great honour.
"I was also surprised to be elected because it was not one of these things that was fore ordained. We didn't know who would win the election, we had no idea.
"In particular there were a few councillors who did not know how they would vote so it could easily have been either way right up to the second when it was announced. I was absolutely thunderstruck and humbled to think it had happened."
He added: "I was totally happy with my situation. I was not in any way aspiring to leadership of the group. In fact, the suggestion of being the Lord Provost came out of the blue for me. I did not expect it at all."
Asked if it was right, despite being a member of the council's third largest party he had been elected to the role, the Lord Provost said he did not see himself as a Labour Provost but conceded his party had been badly hit.
Mr Crockett said: "Labour has lessons to learn about the fact it has come third in the vote, yet it is still the party that is in the centre ground.
"It's difficult to be in the centre ground in modern politics, the trend is polarisation. One of the things about that is everyone has to talk to the centre from the meeting point.
"It puts an enormous pressure on the party to let them fight it out, but it was obvious from the first minute that Labour would be involved in the administration one way or another.
"I do not see myself as a Labour Provost, I see myself as the Provost, and as such I have to be more open to the wider world. All councillors will have access to me.
"Every Provost has a thread and mine shall be making relationships work. Bringing people together is my key message."
The former council leader said he felt he and his colleagues' suspension from the Labour Party following their decision to disobey party orders would be "very temporary" adding, with the introduction of representational voting, multi-party coalitions were becoming the norm, meaning parties had to work together.
"To be honest to me it is just a very temporary thing we will work through. Again, I think people forget it is linked back to people being used to an older political system. It's just a matter of coming to terms with that, but I think it is important to remember that I am still a Labour councillor.
"I think it is important to remember there were Labour councillors here long before there was a Labour Party. The first Labour councillors were active in 1892, while the Labour Party was formed in 1906."