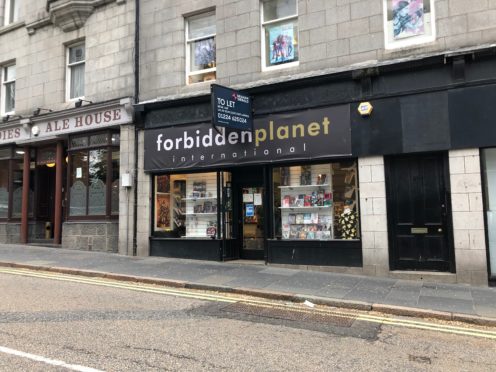 An Aberdeen comic book shop has announced plans to close its doors – just 24 hours after two clothes shops said they would do the same.
Forbidden Planet on Upperkirkgate announced the move through social media, saying it will close for the last time on June 9.
The news came after Arcadia Group UK announced plans to shut its Burton and Dorothy Perkins branches in the Bon Accord Centre.
Several stores have closed their doors in Aberdeen over the past few months, including Game on Union Street and the AGA store.
A statement from the shop on social media said: "It's with heavy heart and great sadness that we have to announce that Forbidden Planet Aberdeen will be closing from 9th June.
"We'd like to thank our loyal customers for their support over the last 18 years – you guys rule! We're heart-broken over this situation, please be sure to come past and say 'hi' before the doors finally close."
The statement also announced plans to hold a major closing down sale, with items going for as little as a quarter of their retail price.
It said: "In the meantime we're offering a 75% closing down sale discount on everything in the store."
The science fiction, fantasy and horror bookshop is owned by Titan Entertainment Group, and sells a range of merchandise, including books, comics, graphic novels, manga, DVDs, video games, toys, clothing and other merchandise related to popular franchises.
Staff also took the opportunity to plug another local comic book shop, asking standing order customers to do business with the "friendly and helpful guys" at Plan 9 on Rosemount Viaduct.
City centre councillor Sandra Macdonald was saddened by the news.
She said: "It's sad when you see diverse and quirky retail outlets shutting their doors.
"I do see from their social media that the staff are very good with their customers, so I wish them all the best.
"That part of town does have some more quirky shops on it, and it's nice – it's very different to your usual run-of-the-mill stuff.
"The comic book market is clearly one that's growing, but I'm not sure if it's something that's being conducted largely online or not."
Councillor Ryan Houghton, who also covers the city centre, said: "This is clearly disappointing news for staff and their family members.
"We all know the high street is changing and that change is difficult as the retail sector adapts to new shopping patterns.
"What's important now is that the company sets out a clear timeline for their staff."
The comic book titan still holds a number of stores in Scotland, including in Glasgow and Edinburgh, as well as a number of "megastores" in England.
The first store was opened in London, in 1978, before its success led another to be opened several years later.
As well as locations across the UK, there is also a Forbidden Planet in New York, which opened on Broadway in 2012.