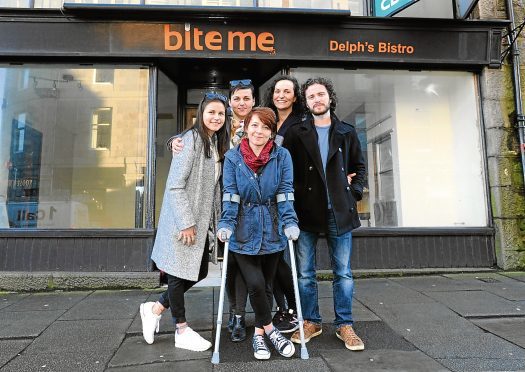 Aberdeen's first vegan cafe is set to officially open this week.
Bonobo Cafe on Skene Street will open its doors for the first time at 9am on Thursday.
Work has been going on behind the scenes to prepare the premises for the launch since a crowdfunding campaign surpassed its £12,000 goal to fit it out in March.
Claire Sweeney, one of the founding members of Bonobo, said everyone was looking forward to the launch.
She said: "We're feeling pretty stressed and excited.
"It's been a lot of hard work but the place looks amazing."
A post on the cafe's Facebook page said: "After many weeks of hard work, tearing down, building, painting, sanding and gardening, we can finally say we made Bonobo ready for you to enjoy and to treat it as your second home."
Bonobo started life as a small vegan Saturday tearoom in May 2015 and the venture grew to become Bonobo Cafe.
The venture, which has until now been entirely run by volunteers, was open every Saturday in a room at the Aberdeen Wellbeing Centre at McCombie's Court.
All the takings from the cafe were put back into it, with nobody taking a wage for their work.
Eventually enough money was saved to pay for the legal costs to organise the lease of a new property, enabling the initiative to go full-time.
The Saturday pop-up closed at the end of November as the team focused its efforts on the move. Bonobo will be Aberdeen's first permanent vegan cafe, as the city plays catch up to the likes of Glasgow and Edinburgh, which already have a number of well-established vegan eateries.
In terms of food, Bonobo will attempt to steer clear of the more stereotypical options such as plain salads or wheatgrass smoothies.
Instead it will take advantage of a range of vegan cheeses and meat alternatives, with items on the menu including various wraps, soups, hotpots and even a full English breakfast.