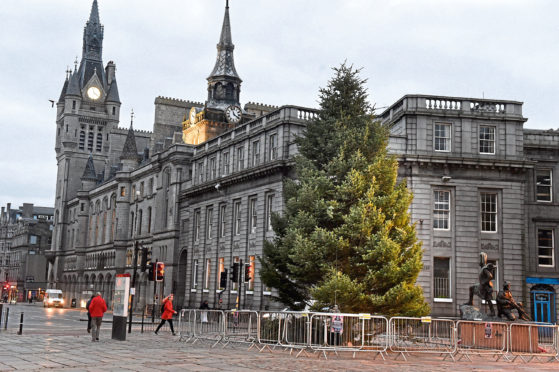 It's beginning to look a lot like Christmas thanks to the arrival of the Aberdeen's tree.
A gift from Aberdeen's twin city Stavanger, in Norway, a 35-foot Norwegian Fir is given to the city every year.
Lights on the tree will be officially switched on at a ceremony on Thursday, with Lord Provost Barney Crockett joined by Stavanger deputy mayor Bjord Tysdel Moe.
Entertainment will be provided by Aberdeen Churches Together, who will bless the tree and give a traditional reading.
Cults Academy Vocal Quartet – made up of pupils Anna and Sophie George, Miriam MacDonald and Nommy Soplantila – will also give a musical performance on the night.
The Lord Provost said: "The city centre is feeling wonderfully festive now that the Christmas Village and markets are set up on Broad Street and in Marischal College Quad, but the lighting of the Castlegate Christmas tree is always a firm family favourite on the festive calendar.
"It is a pleasure to switch on the Christmas tree lights with the deputy mayor of Stavanger whose city has been so generous in gifting the tree to us, which allows us to recognise the successful partnership between Aberdeen and Stavanger that has been cultivated over the years."
He added: "I am delighted that we have Aberdeen Churches Together providing the blessing of the tree once again and I'm looking forward to the musical performance by Cults Academy Vocal Quartet.
"This is a wonderful festive occasion and the start of a weekend of exciting events culminating in the Christmas Lights Switch-On Parade on Sunday."
---
---
The Castlegate Christmas tree will be switched on at 7pm on Thursday.
The market in Marischal Square Quad will also open on Thursday.
It will be open on Thursdays from 4pm until 8pm, Fridays from noon until 6pm and at weekends from 11am until 6pm until December 23.
Meanwhile, the Christmas Village on Broad Street will be open seven days a week until December 31.
It will run from noon to 8pm Monday to Friday and 10am to 8pm at weekends.
On Sunday there will be a range of fun family events, including the Trinity Centre Reindeer Parade from noon, and the Charlie House Santa Fun Run at 5.15pm.
The official Christmas Lights Switch-on Parade, will begin at 5.30pm.