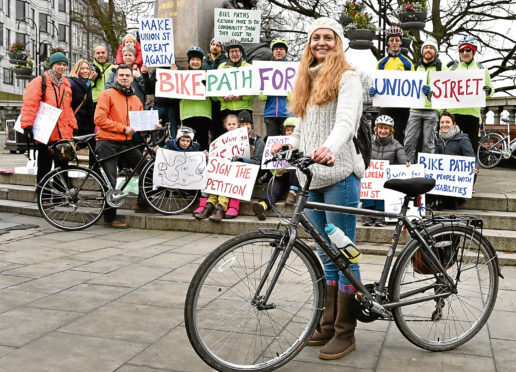 A petition to create a segregated cycle path on Union Street is set to be discussed by councillors this week.
Rachel Martin, from Ferryhill, decided to start the campaign after concerns over the safety of cyclists in bus lanes on one of the city's busiest streets.
The Aberdeen mum-of-two will put the case to members of the local authority's operational delivery committee on Thursday.
The 42-year-old's petition gathered around 250 signatures, when she showcased it at an event at Union Terrace in February.
She said: "There's been a real groundswell of support from the public.
"I found on the day we gathered and got more than 250 people signing and many more people coming up and talking to us about how they would love to cycle in Aberdeen but by and large don't feel safe, especially on Union Street where cyclists are expected to ride beside big buses."
Rachel will have 10 minutes to make her case to councillors and then they will get the opportunity to ask her questions on the proposal.
The cyclist said she was motivated to start up the petition after her own experiences.
She said: "I'm a cyclist but I find it frightening, especially on Union Street.
"I love it for exercise and to stay in shape and so I'm not contributing to congestion.
"Where I'm really coming from is as a parent. While I might take the risk I'm not prepared to let my eight-year-old daughter or 11-year-old son cycle on a bus lane."
Rachel previously told the Evening Express a cycle path on Union Street would just be the start.
It is hoped that if it takes off, there would be more cycle paths integrated into major streets around the city.
It was revealed last month that Aberdeen could be poised to get its own version of a "Boris Bikes" scheme.
Council chiefs have been asked to bring forward a business case around the introduction of a cycle hire scheme, which the ruling administration claims has the potential to bring a real "sea-change" to transport in the city.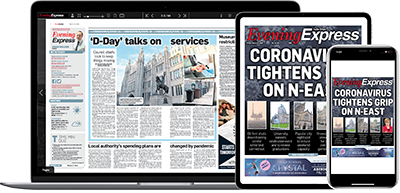 Help support quality local journalism … become a digital subscriber to the Evening Express
For as little as £5.99 a month you can access all of our content, including Premium articles.
Subscribe