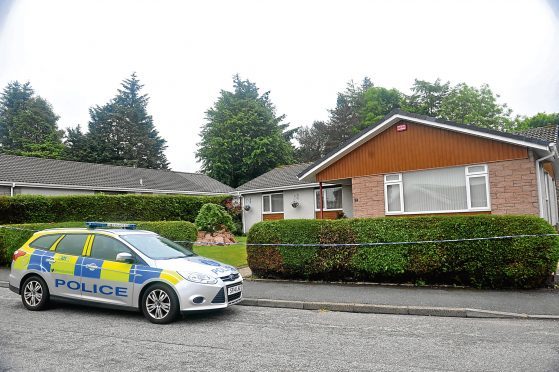 A "perfect hostess" has gone on trial accused of trying to murder her husband who, in court, said he blames himself for the alleged attack.
Offshore development manager Iain Fullerton was stabbed "repeatedly" with a bread knife at the Westhill home he shared with his wife of 29 years.
During a frantic 999 call after the attack, he told police he "should really be dead".
His wife, Grace, went on trial at the High Court in Aberdeen yesterday, accused of attempting to murder him.
It is alleged she locked Mr Fullerton in their home, detained him there against his will and threatened to kill him while repeatedly stabbing him.We
But the 61-year-old has lodged a special defence of self-defence and claims she was attacked first. Her lawyer also told the court she was a victim of domestic abuse.
Fullerton, who now lives on Wallfield Crescent in Aberdeen, also claims she was "not criminally responsible" for the violence as she was "unable, through mental disorder, to appreciate the wrongfulness of the conduct".
And her husband, who was called as a witness for the prosecution, backed her version of events and said he "blamed himself" for the attack. The 64-year-old said: "I was an alcoholic for years, and it's clear to me that my behaviour has caused us a lot of grief.
"I did not want this charge against my wife to come up today, I'm the reason she's sitting in the dock.
"I can't remember the incident, but I don't believe she attacked me, I think it was a struggle."
Police and paramedics were called to Brimmond Crescent in Westhill at about 8pm on June 14 last year.
The jury was played the 999 call made by Mr Fullerton, and heard him say: "My wife has attacked me with a knife, and I'm dying.
"I really should be dead, this is like a bad dream."
The jury also heard from the youngest of the couple's three sons, Matthew, who called his parents' relationship an "unhappy mess".
He said: "It could be very volatile, with disagreements and arguments, and I recall events involving knives."
Fullerton is also accused of behaving in a threatening or abusive manner by shouting and swearing at her husband.
It is also alleged she assaulted him by kicking and punching him, brandishing knives and throwing drinking glasses at him on various occasions.
The trial, before Lord Ericht, was due to continue today.