An Aberdeen woman is spreading positive messages around a community hoping to "brighten someone's day" and help those who "suffer in silence" with mental illness.
Jessica Nicol has tagged Cove with 24 uplifting and affirmative written messages.
The 25-year-old, who owns a crafts and gift shop, was inspired after someone unexpectedly sent her a positive message about her work.
"Someone messaged me a few months ago and I thought it was a really nice gesture," she said.
"They wrote me an uplifting message and I thought it was so positive.
"If their message made me feel the way it did – why not do it for others? I decided to do something similar – something nice and simple that didn't cost anything.
"I decided to put them around Cove (where I live).
"It's meant to brighten someone's day or maybe someone who finds it can hand it to another friend."
Jessica and her younger sister Amber O'Brien worked their way around the area to distribute the cards.
She said: "She's always on hand with anything I need help with, whether it be my work or help with my son.
"I wouldn't have, or couldn't have, done it if I didn't have her help."
The pair started at Cove Harbour before making their way through Old Cove, the Altens Community Centre and finished at the GP surgery.
Jessica also hopes it can help people who might "suffer in silence".
She said: "A lot of people suffer with anxiety and depression and there's still a lot of stigma surrounding mental health.
"There's a lot of people out there suffering in silence and I hope they can help someone who finds them or even someone can pass it on to someone who might need to hear something positive.
"I don't think one card will fix everyone's problems, but one card, especially for somebody going through a difficult time, could help them feel better for a bit."
The mother-of-one takes her inspiration from the positive quotes she sees on social media and tries to put those messages on the cards.
"I'm all about a positive mind and positive thinking.
"People who follow me on social media know I'm always posting quotes about reminding yourself that you are beautiful and confident."
Since Jessica planted the messages around Cove, people have reacted positively on social media and she is considering continuing the project.
"At first, I wasn't sure I should share what I was doing – I didn't want it to be about the publicity," she said.
"But after a while, people started finding the cards and asking what they were about.
"My sister told me 'You should let people know why you're doing this'.
"The other day I drove through Cove and I noticed that a few of them were already gone.
"It makes me feel amazing to know that there's people out there picking them up.
"I've seen posts on social media that said they found a card and that it brightened their day."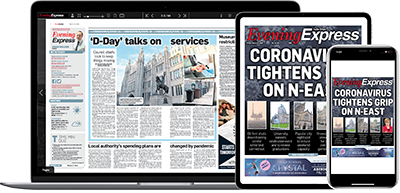 Help support quality local journalism … become a digital subscriber to the Evening Express
For as little as £5.99 a month you can access all of our content, including Premium articles.
Subscribe