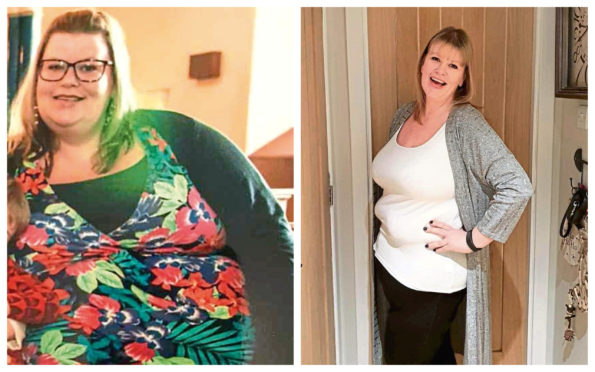 An Aberdeen woman has told how she dropped five dress sizes after battling with her weight for years.
Fiona Bain, 45, lost 125 lbs – nearly nine stone – after being invited to a weight loss group by a friend.
The city centre resident said: "I've had issues with my weight for a long time, and when I was out for lunch with a friend, she was doing really well with her weight loss and she said I should go along to a meeting, so I just thought, 'Why not?'
"I felt my mental health was in the right place for me to really be able to make that change.
"My comfort was eating, when I feel down, I just think I'll eat.
"Within the first week, I lost nine pounds and that really pushed me on."

But the Job Centre worker, who had struggled with her weight for the majority of her adult life, isn't finished yet.
She said: "I think I have another five stones left to go. But my thinking isn't so much about numbers, it's more about being happy in my own head."
Fiona managed to drop five dress sizes in just a year with the help of WW, formerly Weight Watchers, and is now able to shop in any high street store she wants to for clothes.
Her weight loss journey has also re-ignited a love of cooking, with the majority of her meals now being made from scratch.
She said: "I can eat anything I want and friends are always commenting on how delicious my food looks – they can't believe the variety of foods I can eat and still be losing weight!"
For anyone who is looking to do the same, Fiona said the best advice is to use the help people offer.
She said: "Take the support that's given.
"Don't be scared to admit it's gone wrong.
"If you cheat, the only person you're going to be cheating is yourself."
Fiona also said that one slip doesn't mean failure, but it's important to bounce back.
She said: "It's hard, and it's a battle, but one bad day doesn't make it the end of your journey.
"Even if it's a bad day, if you get through it, then you need to push through."
Planning what to eat is important to Fiona, who now keeps fruit at her desk in work to stop her from straying to get other fatty foods.