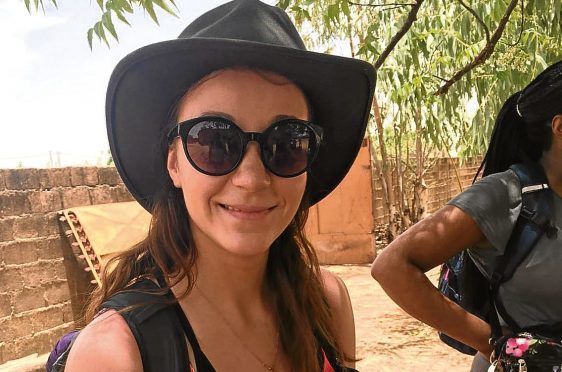 An Aberdeen volunteer has travelled 4,000 miles to improve the lives of women and girls in a west African village.
Former University of Aberdeen student Monika Mandravickaite, 24, lived with the residents of Guiloungou in rural Burkina Faso for 12 weeks.
She travelled to the remote village as part of charity International Service and its partner organisation Kabeela, which aims to improve female living conditions by financial empowerment.
Monika said she found the experience challenging but rewarding.
She said: "Different living conditions, unusual food and drinks, heat reaching 40 degrees almost every day, the language barrier, different habits and mentalities challenged us all every day.
"Throughout this placement, I have learned that development and the fight for human rights is a very long and complex process.
"We saw and lived with people, who are based in highly marginalised communities. Their basic rights are not met, gender inequality is still socially acceptable, environment and animals are suffering from the country not having enough capabilities and right mind-sets.
"Poverty is just a word for us, but it is a reality for people living here."
Monika and her team were able to arrange skills sharing for the village women, and they learned how to make new soaps, pomade and lip balm as well as new food produce such as porridge and couscous.
She said: "We worked towards making Kabeela a sustainable association, encouraging and empowering women to participate in decision making.
"Ideally, in the near future, they would be able to provide for themselves and give them power in their lives."
Now that she's back in Scotland Monika hopes to pursue a job with a human rights non-government organisation or a charity.
She travelled to Burkina Faso through the International Citizen Service (ICS) programme, funded by UK Aid.
Felicity Morgan, director of ICS at Voluntary Service Overseas, said: "ICS volunteers like Monika are doing amazing work around the world, every day.
"We're incredibly proud and we'd love more young people from Aberdeen to take that first step."