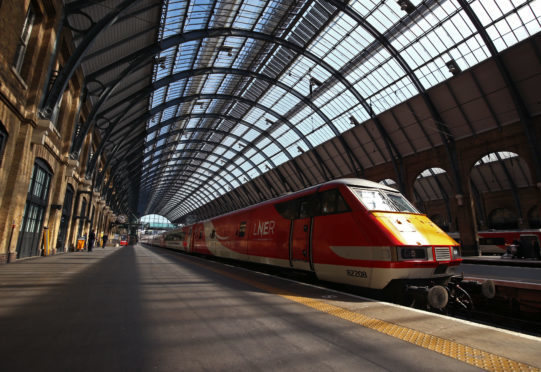 Punctuality for London-Aberdeen trains on the East Coast Main Line reached a seven-year low after services were returned to public control, figures show.
Just 62.6% of London North Eastern Railway's (LNER) Anglo-Scottish services arrived within 10 minutes of the scheduled time between June 24 and July 21, according to Network Rail data.
Press Association analysis found this was lower than any four-week period under its predecessor Virgin Trains East Coast (VTEC), which operated from March 1 2015 until June 23.
It was the worst punctuality figure for the route since December 2010.
A spokesman for LNER said: "We have had a challenging period due to a number of external factors, many of which were beyond our immediate control."
These include hot weather, infrastructure problems and the introduction of new timetables which caused disruption at key locations such as London King's Cross and Leeds.
He added: "Now that the transfer to LNER is complete we will bring a renewed focus to the operating detail of running the railway.
"We continue to work with Network Rail and other operators to identify areas where further improvements can be made and to drive these forward to consistently improve the customer experience."
Services on the East Coast Main Line were brought back under public control following the failure of the (VTEC) franchise.
Trains on the vital route between London and Scotland are being run by the Department for Transport's (DfT) Operator of Last Resort, branded as LNER.
VTEC, a joint venture between Stagecoach (90%) and Virgin (10%), began operating in March 2015.
The firms agreed to pay the government £3.3 billion to run trains until 2023, but the contract was ended prematurely after they failed to achieve revenue targets.
LNER will operate until a public-private partnership takes responsibility for both trains and track operations in 2020.
Transport Secretary Chris Grayling refuted accusations from Labour and trade unions that his decision to end VTEC's franchise early was a "bailout" worth £2bn.
The switch from VTEC to LNER is costing an estimated £8 million, which includes marketing, rebranding and IT set up.
VTEC is the third private operator to fail to complete the full length of a contract to run East Coast services. Trains were run by the DfT for six years up to VTEC taking over.