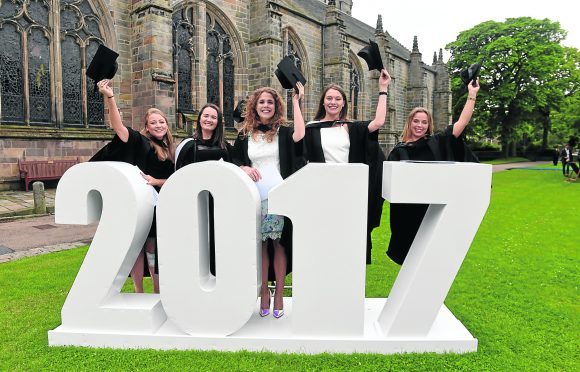 Students all across the North-east are celebrating their big moments this week as they line up to graduate.
Every day this week the University of Aberdeen is holding graduation ceremonies at Elphinstone Hall on the King's College campus.
Both higher and undergraduate degrees were handed out in a variety of disciplines yesterday, including management, accountancy and finance and economics.
Hundreds of students gathered at the hall to celebrate their day and everyone was in high spirits as the sun was shining.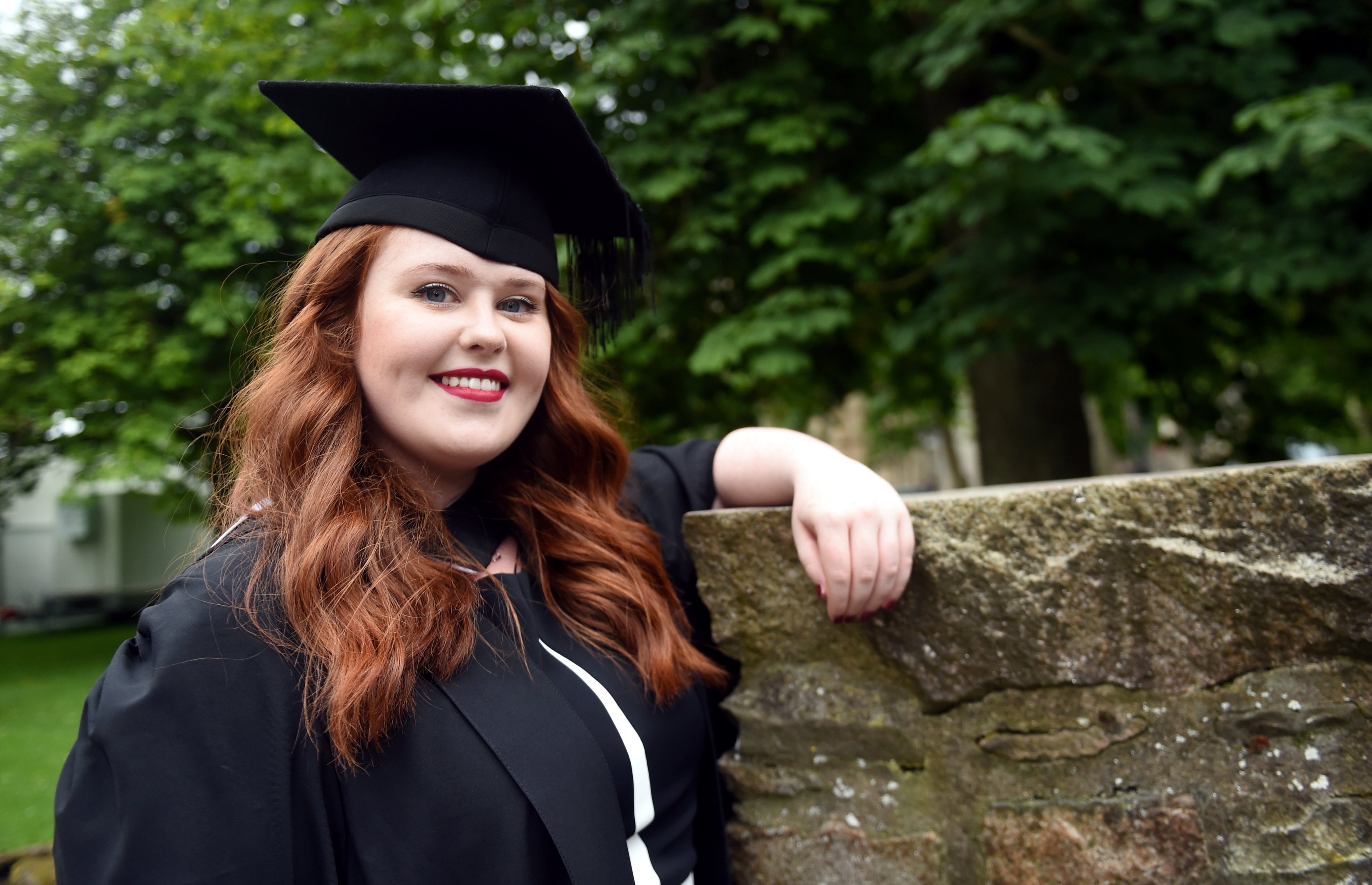 One of the students graduating yesterday was 24-year-old Michaela McCombie from Torry.
She graduated with a first class honours degree in MA Accountancy and Finance, making her the first in her family to graduate from university.
Michaela did so not just with first class honours, but she was also awarded the finance senior honours award and a scholarship for most academic merit in her time there.
However, it hasn't always been plain sailing.
Diagnosed with myalgic encephalomyelitis (ME) when she was 15 years old, Michaela was forced to leave school on medical grounds with no qualifications.
The neurological condition left her constantly tired, with sore muscles.
She said: "My hearing was shot and my vision was impaired. It was just everything really."
But she was determined for that not to be the end of her studies.
After hearing about the University's Centre for Lifelong Learning from her boyfriend, she took a year long access course in order to get into her degree.
Michaela said: "I was ill between the ages of 14 and 17, up until my 18th birthday really. I had to give up school on medical grounds.
"My boyfriend was a law student here at the time, so he recommended that I do the access course.
"That was a year, I got my place on the course and then it seems to have gone in a flash and now I'm here!
"If anyone had said to me 10 years ago when I was in hospital that I would ever do it, I just would never have believed them, so it's amazing to actually have done it, and to have my family here.
She added: "The parents have had to deal with it all, but they've been brilliant, so it's all behind us now."
To receive the senior honours finance award was a highlight for her.
She said: "I was delighted.
"I got an e-mail about it over summer.
"It was brilliant, especially as a student, all the financial help helps!"
As her studies came to a close, she reflected on how she was feeling.
Although she was excited, Michaela admitted: "I'm really nervous actually, I'm just glad I didn't fall down the stairs!"
Not stopping at just those achievements, Michaela will be going on to start her new graduate job in August as a trainee tax accountant at Anderson Anderson and Brown LLP (AAB).
Working with them for the past two years as a brand ambassador on campus, she started their Aberdeen internship programme, off the back of previous work she had done with them.
Michaela said: "I'm going to be starting my professional career with them and hopefully I'll stay with them for a while.
"I'll be a trainee tax accountant, so I've got another three years of exams, so we'll see how they go. Fingers crossed.
"I'd always wanted to go into accounting but I kind of looked around different departments and it was tax that I kind of realised is probably for me, it's very much problem solving which is what I like about it."
Before she moves on to her next venture, she's going to be relaxing for the next month.
She said: "I'm going down to the Queen's Championships at the weekend and after that I'm just going to enjoy the rest of summer.
"It'll be nice to have a break."
Her parents, boyfriend and boyfriend's mum were all along on the day to watch her graduate and cheer her on.
---

City university was top choice for student Ryan
The University of Aberdeen was an obvious choice for one city graduate.
Ryan Cowan, 22, was born in Aberdeen before moving to St Andrews and going to school there.
He said: "I chose the University of Aberdeen because I was really interested in energy economics, and it was between here and Glasgow really, so I chose here."
Ryan described his university experience as a lot of fun.
He said: "I've really enjoyed it. It's good, hard work and it's rewarding.
"It's good to have the support from family and friends as well."
An economics student, Ryan was also given an award for coming top in his year.
He said: "I was given an award too, that was a nice surprise!"
Although he has just graduated, Ryan is already looking to the future.
He will be continuing on his studies later this year with a masters degree in economics.
It won't be a relaxing summer for him before he gets back into university, however.
He will be jetting off to London, after securing himself an internship over the summer at Ernst & Young LLP, one of the largest professional firms in the world.
Ryan said: "The internship is going to be in consulting, so that'll be good fun."
Although he said he was originally interested in energy economics, he admitted that he wanted to keep his options open for the future.
Thinking about his ideal job now that he has graduated, Ryan added that he would love to be an economic adviser for the government, or a big institution such as World Bank.
---

Emily celebrates success after change of direction
Among those celebrating graduating from university was 20-year-old Emily Low.
Originally studying politics, she switched to study management to give her a better chance of securing work in in Aberdeen, after getting engaged while studying for her degree.
Emily, from Newmachar, said: "I didn't think I'd get here to be honest, so I'm really proud of myself.
"I got engaged halfway through university so it's good to get here."
Although management wasn't her original choice, she said: "I just thought management would be really interesting, and it's good to get a job at the end of it.
"I started off in politics, but I need to be able to stay in Aberdeen with my fiancé and I didn't think that politics would do that."
After three years of hard work came to an end, Emily admitted: "I was crying in the ceremony, I was like 'stop crying, why are you crying!'"
"I'm not an emotional person but I just thought oh my God, I got my degree!"
There'll be no relaxing over the summer for her, however.
Emily will be going straight from university into full-time work.
Starting in two weeks, she has secured a graduate position at Enterprise.
She said: "I should be a branch manager in a couple years if all goes well.
"It's so exciting because everyone usually graduates at 22 and I'm graduating at 20.
"I start two weeks today so there'll be a couple of nerve-racking Monday mornings!
"I'm just really excited. I don't think I'd be this confident if I didn't have anywhere to go.
"It's nice to be able to go somewhere."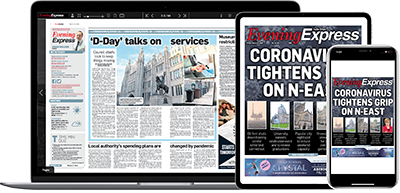 Help support quality local journalism … become a digital subscriber to the Evening Express
For as little as £5.99 a month you can access all of our content, including Premium articles.
Subscribe