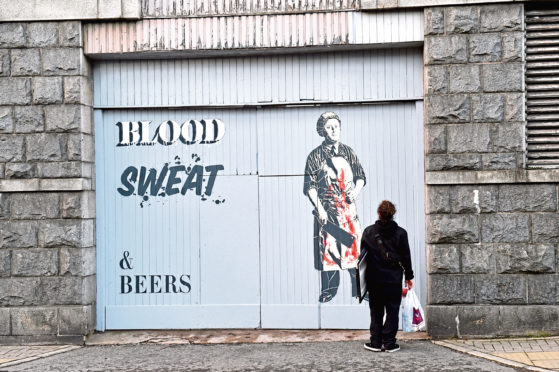 The man behind Aberdeen's newest piece of street art hopes his work will be a permanent reminder of the city's history.
Graffiti artist FitLike created the work – entitled Blood, Sweat and Beers – near the Butcher's Arms pub on Hutcheon Street.
The art, featuring a blood-stained butcher wielding a cleaver, was created on a large wooden gate which used to lead into Aberdeen Mart and Slaughterhouse.
The entrance is owned by the Butcher's Arms, which granted FitLike permission to paint it.
The artist hopes his work will spark interest in the area's rich history.
He said: "It would be nice if the painting became part of the furniture of the area.
"When you work in the medium of graffiti art, sometimes your work only lasts a few hours.
"We might even do some other paintings around the site to make it even better.
"It's great to be able to paint something and be able to take the time to make it really nice. It's really special and it's pretty significant to the area."
FitLike – he won't reveal his real name – said the work came about after a conversation with the pub's director, Graeme Hetherington.
FitLike said: "I popped in to the pub on the off chance they would let me do something and I ended up having a chat with Graeme about a few ideas.
"He explained all about the history of the gateway and things like that, and that's when everything came together in my head.
"I found an old photo of a butcher, which I think is from the 1950s, and I thought it was perfect for what I was planning to do on the gate."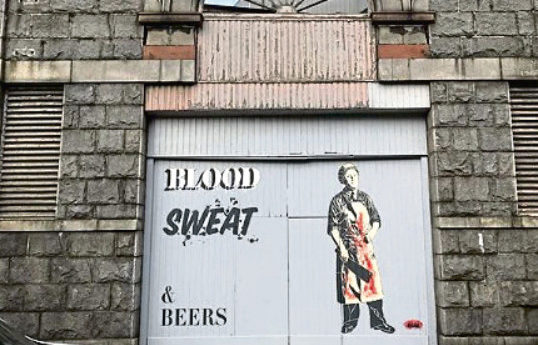 It took him around four hours to create – and caught the attention of locals.
"While we were painting we had quite a few people who stopped and asked us what we were doing," he said.
"There was one lady who had lived in the area her whole life and she remembered when it was the slaughterhouse.
"She was absolutely delighted to see something going up to celebrate it."
The gateway will eventually form the entrance to the Butcher's Arms' new beer garden.
---
---
Graeme said: "It's all part of trying to modernise the pub while maintaining the tradition and history of what is a fairly classic pub.
"It embraces the idea of the old meeting the new."
FitLike is now hoping he will get the chance to mark other historical sites in the city through his artwork.
He added: "The painting on the gate fits really nicely with the history of the area and is a nice reminder of what has been there before.
"There are a lot of other places like that in Aberdeen which have a lot of historical significance.
"It would be nice to be able to celebrate them."