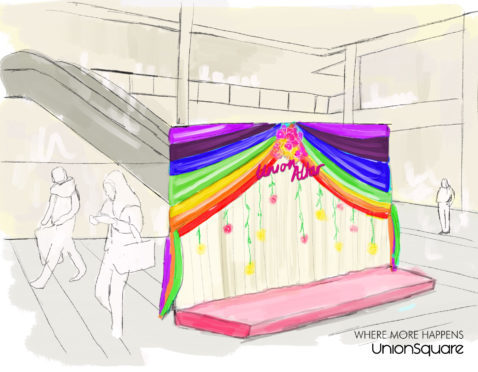 An Aberdeen shopping mall has announced it will offer Pride-going couples the chance to get married in the centre.
To celebrate Grampian Pride Union Square has released an artist's impression of a pop-up wedding altar, which will be constructed if couples sign up to get married at the shopping centre.
Akin to Las Vegas' Little White Chapel, the "Union Altar" pop-up will be available on Saturday May 26 to one and all – and will present loved-up couples with a wedding space and celebrant for one day only, entirely free of charge.
While a marriage license must be obtained in advance, the centre will provide all other elements for the occasion – a rainbow-themed altar, a non-religious Humanist celebrant and a celebratory meal for two from one of the centre's 20 restaurants.
A Union Square spokesperson said: "Scotland is significantly more flexible about where and how you can get married, so we thought we would embrace this fact and welcome couples to tie the knot right here in Union Square – just a stone's throw from the official Pride route. What better way to make Grampian's first ever Pride a memorable one!
"Union Square is thrilled that Pride has made it to Grampian and we are keen to show our support. The 'Union Altar' pop-up is designed to celebrate the LGBT+ community and to welcome them with open arms."
Named the best country in Europe for LGBT protection, Scotland has unobtrusively become a world leader when it comes to lesbian, gay, bisexual, transgender and intersex rights. Scotland was also the first country in the UK to abolish Section 28, three years before England and Wales.
For couples looking to register their interest and reserve a place at "Union Altar", please email unionsquare@mcfrank.uk
---
CEREMONY LEGAL REQUIREMENTS
1. Marriage Notice – M10 Marriage Application Form
Applicants must complete a M10 form and submit to the Registrar in the local authority where they wish to marry no later than 29 days before the wedding.
2. Marriage Schedule
The register office will prepare a Marriage Schedule. This must be taken to the ceremony and signed by applicants, celebrant and witnesses. Applicants must collect the Marriage Schedule from the register office in the week before the wedding.
3. Marriage Certificate
Applicants must submit their signed Marriage Schedule to the register office within three days of the wedding. The Registrar will then send out a marriage certificate which is proof of legal marriage.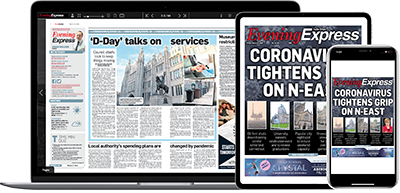 Help support quality local journalism … become a digital subscriber to the Evening Express
For as little as £5.99 a month you can access all of our content, including Premium articles.
Subscribe