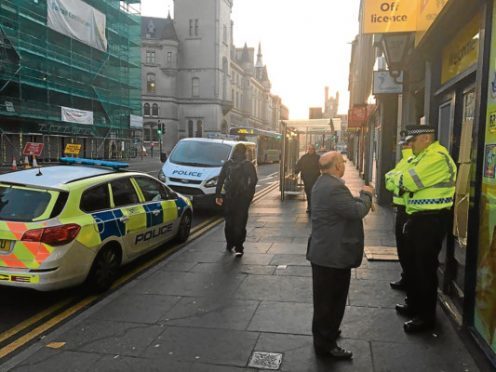 An Aberdeen shop worker has told how he was held at knifepoint and ordered to "empty the till".
Two men entered Premiere Stores on Aberdeen's Union Street with their hoods up and faces covered with scarves.
One of the men brandished a knife – about 12 inches long – at cashier Eric Odane while the other watched the door.
Eric, 27, said: "As soon as I was alone in the shop they came in, I knew what was happening so I was ready for them.
"I knew these guys wanted to do something. One held the door halfway and was watching outside.
"The other pulled out the knife and told me to empty the till. I told him I wasn't going to do that and started asking him why he was doing this."
Quick thinking Eric stepped further away behind the counter so he was out of reach of the blade.
That's when two women entered the shop, which stopped the men in their tracks.
Caught in the act, the would-be robbers made a dash for it without taking anything.
Eric chased after them a little and shouted "thieves, they're armed" to alert people on Union Street.
Musheaq Nazir, store manager, said: "Eric was in a state of shock, he's all right now.
"It's the first time something like this has happened, you don't expect it in the city centre."
Eric was already suspicious of the men when they entered as he'd seen them in the shop half an hour before. He said they were "walking too close to each other" and seemed to be trying to "kill time".
The second time they came in Eric noticed they had swapped hoodies. Police Scotland are now appealing for witnesses to the incident, which took place at about 2.30am yesterday.
Officers were hunting for a man who was wearing a black waist length jacket which had its hood up, a brown scarf, blue/grey jeans and blue trainers.
Detective Inspector Allen Shaw, who is leading the investigation, said: "A number of people who were in the area at the time have assisted with our inquiries so far and we are following positive lines of inquiry, however, I would urge anyone else with information to please get in touch."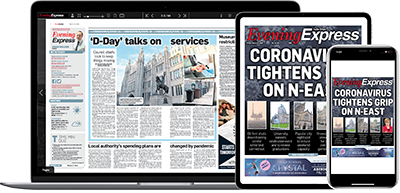 Help support quality local journalism … become a digital subscriber to the Evening Express
For as little as £5.99 a month you can access all of our content, including Premium articles.
Subscribe