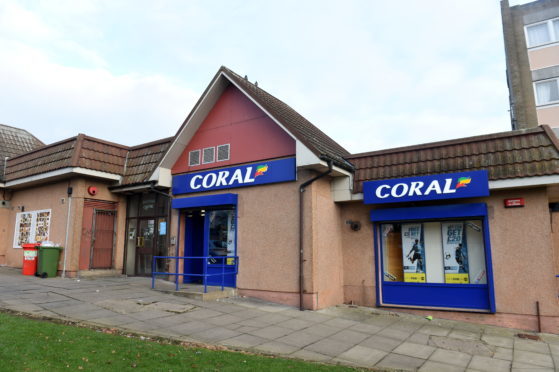 A bookie's employee has told a jury a knife was held to her throat during a raid at her betting shop.
Jade Williams, 24, told the court how a masked man threatened her with a blade during a robbery at the Coral Bookmakers in Aberdeen's Cornhill Shopping Arcade on October 27 2016.
The High Court in Edinburgh heard Ms Williams say another masked man took part in the robbery.
She said the two men got away with more than £2,000 of takings from the shop before she and colleague Craig Mackland managed to raise the alarm with the police.
Speaking yeterday, Ms Williams, of Aberdeen, told prosecution lawyer David Taylor of her shock at being threatened with a weapon.
She said: "I felt scared. "I felt sad. I felt angry. "I kinda had mixed feelings."
Ms Williams was giving evidence on the fourth day of proceedings against Warren Keating, 29, Darren Summers, 30, and Jeff Binnie, 24.
Prosecutors claim that Keating and Summers, both of Liverpool, robbed the shop where Ms Williams worked.
The Crown also claims that Keating, Summers and Binnie, of Aberdeen, conspired to murder a man called Henry Stephen, an alleged drug dealer.
Yesterday, Ms Williams told the court how she and her colleague were working when two men entered the shops with their faces covered.
She said one of the robbers grabbed her and threatened her with a knife.
Ms Williams said: "They took me to the safe. They pushed me down on the ground and held a knife at my throat."
Ms Williams said one of the men demanded she open the safe and hand over the shop's takings.
She said he had a "Liverpool accent".
Ms Williams said she accidentally locked the safe and that this caused the man to swear at her.
She said the men got her colleague to open the safe and they made off with around £2,000.
The shop worker then said that after the men left, she pressed a panic button whilst Craig phoned police.
The three men are also standing trial on firearms and drugs offences.
They have pleaded not guilty to all charges.
The trial continues.